Appeal for support: effects of COVID-19 on INGOs
CADA NI Statement on COVID-19, to Northern Irish Members of Parliament, the NI Executive, the All Party Group on International Development at Stormont, and to the Third Sector in Northern Ireland.
Wednesday / 06 May 2020 1:33pm
Slowing and stopping the spread of COVID-19 continues to demand decisive and collective action from everyone – no one individual, community or country can deal with this challenge alone, it takes all of us; governments, healthcare staff, essential workers and the wider public to play our part in saving lives. It has never been more important to show global solidarity in the face of a pandemic that knows no borders and threatens the lives and livelihoods of us all, from the poorest to the richest on the planet.
Here at the Coalition of Aid & Development Agencies Northern Ireland (CADA NI), we are used to the 'frontline workers' being our members' staff and partners, responding to emergencies locally and in places far from home. During COVID-19, we are incredibly grateful and want to pay tribute to the frontline workers both here and around the world who have stepped up and risked their safety to protect ours.
Our members' ability to raise vital funds throughout this crisis has been severely negatively impacted. In order to play our part in preventing the spread of the virus, fundraising has been scaled back or suspended while members' charity shops have had to close their doors. Events and annual initiatives have been cancelled, as well as all of the opportunities to engage with the public and our supporters face-to-face. While continuing to carry out their vital work, members have also looked at ways to cut costs during this time to ensure the sustainability of their organisations beyond COVID-19 – for some, that means temporarily ceasing to operate.
In order to ensure the vital work of Northern Ireland's aid agencies can continue and that communities across the world can not only survive COVID-19 but rebuild better lives afterwards, the 18 members of CADA NI are calling for the creation of a 'Resilience Package', including:
Amending the Coronavirus Job Retention Scheme to allow charities 'furloughed employees' to work while employers can still avail of the wage subsidy.

Ring-fence funding to help bridge the loss of income for Northern Ireland's non-governmental organisations.

An increase in the rate of Gift Aid charities can claim on donations from taxpayers to 50 per cent, from April 2020 until April 2021.
The Resilience Package would firstly enable organisations to return to operations once COVID-19 restrictions ease, including resuming critical fundraising activities. Further, it would go some way to compensate for the loss of income in this financial year. Without this, CADA NI members remain at risk of an unsustainable financial position post-COVID-19, which would have a devastating impact on the vulnerable people and communities they support across the globe.
Poorer countries do not have adequate health and hygiene infrastructure to deal with the rapid spread of this deadly disease – and in emergency situations where conflict continues to rage or forced displacement means millions of people live in cramped and overcrowded refugee settlements, practising social distancing and life-saving hygiene practices is difficult, if not impossible. For those already more vulnerable – people with disabilities and the elderly, – COVID-19 is even more devastating. Developing countries will also be hardest hit by the economic fallout of coronavirus where existing inequalities are already at play and hundreds of thousands more people will be pushed into poverty and destitution. Existing injustice and inequality is being exacerbated by this crisis, affecting everyone. However, the poorest and most vulnerable are disproportionately impacted, and to survive they need our help.
For the members of CADA NI, the people we work with are some of the most vulnerable in the world – and stand to be the worst affected as they face this deadly virus without access to healthcare, or hygiene infrastructure, or with enough money to get by. At CADA NI, we remain profoundly grateful to the public for their ongoing support. In the face of this global threat, we are appealing to you to stand with and support the vital work of Northern Ireland's aid agencies, ensuring communities across the world can not only survive COVID-19 but rebuild better, brighter futures afterwards.
Peter Anderson
CADA NI Chair
For further information please contact:
Lucy Keown, CADA NI Development Officer
c/o Concern Worldwide, 47 Frederick Street, Belfast, BT1 2LW
Notes:
About CADA NI
CADA NI, or the Coalition of Aid and Development Agencies Northern Ireland, is the umbrella organisation of overseas aid and development agencies with an active presence in Northern Ireland. Member organisations work to promote sustainable development, social justice and a fairer society in both local and global contexts. They support sustainable international development by enhancing awareness and a better understanding of development issues in Northern Ireland, and influencing policy at local, national and international government level.
For more information see cada-ni.org/ 
Last updated 3 weeks 2 days ago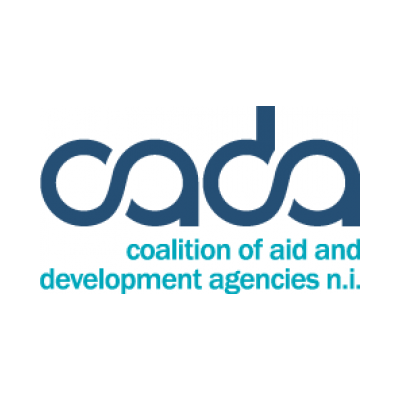 CADA
c/o Concern Worldwide
47 Frederick Street
Belfast
BT1 2LW
United Kingdom