South West College
2 Mountjoy Rd
Omagh
BT79 7AH
United Kingdom
Opening Hours
10am-3pm Monday, Wednesday & Friday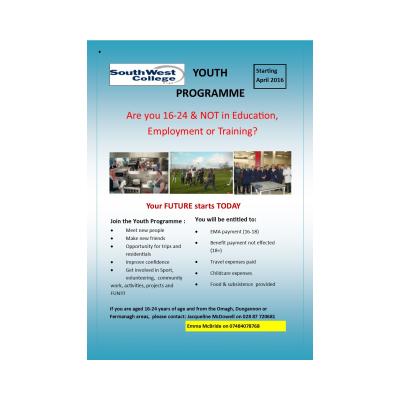 Youth Programme - For young people aged 16-24 who are not in education, training or employment.
The Youth Programme is a fun supportive free course for 16-24 year olds who are not in education, training or employment. The programme aims to help those who need some direction about what they would like to do in the future. It aims to improve confidence and support young people through a mix of tutor-led and mentoring sessions. The programme involves trips, residentials, community work and the opportunity to gain Level 1 in Skills for Employment. We will cover a variety of topics including Health & Wellbeing, Mental Health, Sexual Health, Money Matters, Cook-it, Employability, Citizenship and Good Relations.
Participants are eligible for EMA (16-18) payments, travel expenses, childcare expenses, food is provided and benefit payments (18+) are not affected. The programme will be tutor-led on Mondays, Wednesdays and Fridays, 10am-3pm, with mentoring available Monday-Friday.
Previous participants often go onto the SUSE or Practica programmes that are also run at the college and focus on helping students train and find work, the Youth Programme works on building up students' confidence and skills as a foundation for these programmes, and for further education or employment.
No content
This organisation doesn't have any publicly available jobs, news or events.
More Information
Type of Organisation
VCSE