Fermanagh Positive Youth Outlooks
Unit 9 Ballinamallard Enterprise Centre,
Ballinamallard
BT94 2BD
United Kingdom
Contact Details
Darrell Law Youth Worker
Opening Hours
Monday-Friday 9am to 5pm (occasional weekend hours for special events to include a residential and community fundraising events).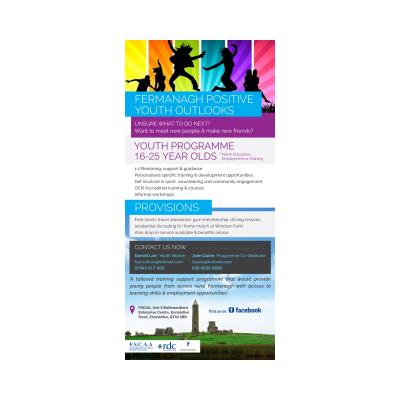 'To provide a holistic approach to help rurally isolated young people build & develop life skills that foster good relations, building confidence & resilience. To promote greater understanding & acceptance of diversity, increasing the skills base and future employment options of 'at risk young people'.
PYDP YOUTH PROGRAMME 16-25 YEAR OLDS
(Not in Education, Employment or Training)
· 1:1 Mentoring, support & guidance
· Personalised specific training & development opportunities
· Get involved in sport, volunteering and community engagement
· OCN Accredited training & courses
· Informal workshops
PROVISIONS;
Free lunch, travel allowance, gym membership, driving lessons, 2 residential's (N.I home match at Windsor Park)
Also drop in service available & benefit advice
No content
This organisation doesn't have any publicly available jobs, news or events.
More Information
Type of Organisation
VCSE
Acronym
FPYO
NI Charity Number
NI104830