THE TIME IS NOW FOR SOCIAL ENTREPRENEURS
Global Entrepreneurship Week: Perfect Platform to Showcase Social Entrepreneur Successes
Social entrepreneurs from across Northern Ireland are making the most of this year's Global Entrepreneurship Week (GEW), with help from UnLtd.
Tuesday / 08 November 2011 9:03pm
The time is now for social entrepreneurs
Global Entrepreneurship Week: Perfect Platform to Showcase Social Entrepreneur Successes

Social entrepreneurs from across Northern Ireland are making the most of this year's Global Entrepreneurship Week (GEW), which runs from Monday 14th November until Sunday 20th November, and will be showcasing their successful social ventures at a number of events to highlight the positive difference social entrepreneurs can make within their local communities.
UnLtd, the Foundation for Social Entrepreneurs supports 100 plus socially-minded individuals from across Northern Ireland each year and delivers Awards programmes which provide funding and business support for those individuals looking to establish or grow an idea that could create change within their community and the wider society. These events during GEW are open to community members, the voluntary sector and the general public. An overview of events can be found below:
SurfSUPNI is running surf lessons to celebrate the Tidy NI Coastal Care Award for Best Business Involvement in 2011.  Those involved will learn how to surf as well as more on how to look after the Northern Irish beautiful coastline responsibly. The event takes place at Portrush, West Strand on Monday 14th November at 10am
Jonathan Engstrand is raising awareness of renewable energy and how it has the potential to change the community, the world and reverse global warming. He will be presenting on the subject and showing display model kits. Jonathan will be at Ballynafeigh Community Centre, Ormeau Road, Belfast on Monday 14th November at 7pm.
Karol Gallagher is hosting an 'On the Ball' coffee mornings on Monday 14th and Tuesday 15th November to showcase the venture's successes to date within local community groups and sports clubs. Karol will be at the Hub Community Centre, Brownlow, Craigavon from 11.30am until 2pm.
Roberta Richmond will be celebrating the success of the first six months of actively providing counseling services and advice to the public by officially launching 'East Belfast Community Counseling' on Friday 18th November from 12 noon at her premises on 126 Bloomfield Avenue, Belfast. 
Zulfiqar Ahmed, UnLtd Director said "The time is now for social entrepreneurs and Global Entrepreneurship Week is a fantastic opportunity and the perfect platform for our Award Winners to showcase how their social ventures are making a difference within their local communities. We work hard to ensure that individuals with the passion to create positive social change receive the support and funding they need to establish and grow their idea."
For information about UnLtd and its Award programmes visit www.unltd.org.uk.
 ENDS
For media enquiries please contact Ashley Whittley at the UnLtd Belfast office on 028 9024 4007 or email [email protected] / [email protected]
For more information about the events, please contact:
SurfSUPNI: John can be contacted on 07796614844
Jonathan Engstrand: 028 90 491161
Karol Gallagher, On the Ball: 07514 526902
Roberta Richmond: 028 90460489
Notes to Editor
About UnLtd
UnLtd is the leading provider of support to social entrepreneurs in the UK and offers the largest such network in the world. UnLtd resources over 1,000 individuals each year through its core Awards programme.
UnLtd operates a unique model by investing directly in individuals and offering a complete package of resources; from awards of funding between £500 and £15,000 to ongoing advice, networking and practical support.
UnLtd supports individuals who have their ventures firmly rooted in delivering positive social change. The Global Entrepreneurship Monitor (Harding and Harding 2008) found that there were 1.7m people leading social organisations in the UK, 238,000 trying to start one, and that 35% of all nascent (early stage) entrepreneurs were starting with social ventures.
UnLtd Ventures - provides long term specialist support to a number of outstanding entrepreneurs
UnLtd Research - leads on inspiring and informing action, policy and social change
UnLtd Connect - brings together experienced professionals able to offer pro-bono support and those who are growing social ventures
UnLtd Advantage - is the premier investment readiness programme for social entrepreneurs and those investing in them
Live UnLtd - is transforming how society views young people and how young people view themselves
UnLtd
resource community entrepreneurs to start-up; support those with more established ventures to scale up; and are committed to developing an eco-system of support to make it easier for those who need help to find it.
For more information about the support offered by UnLtd, please visit: www.UnLtd.org.uk
Last updated 8 years 2 months ago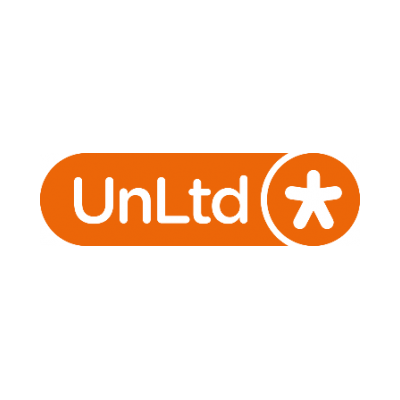 UnLtd - The Foundation for Social Entrepreneurs
UnLtd
City East Business Centre
Belfast
BT4 1GW
United Kingdom