OUR Play, OUR Journey, OUR Generation animation highlights importance of play in building bridges
PlayBoard NI, the lead organisation for the development of children and young people's play, has shared a new animation entitled OUR Play, OUR Journey, OUR Generation.
Tuesday / 18 April 2023 9:13am
The animation showcases PlayBoard's work as part of the OUR Generation project and follows Archie Bear as he explains how important play is for children and adults, and how it can help build resilience and bridge divisions. The animation tells the story of how PlayBoard was founded to promote play at a time of conflict in Northern Ireland, and the work of the OUR Generation project to address the impact of the conflict through play.
OUR Generation is funded under the European Union's PEACE IV Programme, managed by the Special EU Programmes Body (SEUPB), to build positive relations and emotional resilience in communities impacted by four decades of the Troubles/Conflict across the island of Ireland.
Match-funding for the project has been provided by The Executive Office in Northern Ireland and the Department of Rural and Community Development in Ireland. 
Speaking at the launch of the animation PlayBoard Chief Executive, Alan Herron, said:
"Over the past three years, through a play-based approach, PlayBoard has supported children's mental health and well-being, building resilience, and enabling them to better manage their emotions.
"Delivered in primary schools and childcare settings within the Urban Village Areas in Belfast and Derry/Londonderry, as part of the OUR Generation project our Spaces to Be programme has made a significant impact with over 700 children enjoying fun and innovative play sessions, almost 300 practitioners engaging in our play training, and over 150 parents attending interactive information sessions.
"We hope this new animation will be an enduring legacy of the project. The level of participation in the programme and the positive feedback we have received clearly illustrates the need and appetite for our play-based programmes. Following the challenges of the past three years with the Covid-19 pandemic and associated lockdowns, and the current cost of living crisis, quality play opportunities are more important than ever for boosting children and young people's mental health and well-being, as well as their physical health and skills development."
Fountain Primary School in Derry/Londonderry participated in the programme and teacher Stephen Torney explained how play has changed in the school following PlayBoard's involvement.
"OUR Generation has allowed us to see the benefits of play. The programme has changed my approach to unstructured play. I always thought everything had to be planned out but the work with PlayBoard has allowed us to see that actually giving children the freedom to do what they choose means that they enjoy the play more.
"Play is essential, all children need time to play. At Key Stage 2 sometimes we forget about play and think when we're doing sports and PE that it counts as play, but children need unstructured play to allow them to explore what they enjoy and their own creativity. The OUR Generation programme provided the children with everything they needed to explore that. The children loved it, whether it was having water fights or creating rockets out of the junk they were allowed to play with, they enjoyed every minute of it."
Catherine Forte, teacher at St Vincent de Paul Primary School in Belfast also benefited from the programme.
"Through engaging in practitioner training we had a chance to reflect on our own practice and how many opportunities we give children to play in school, especially in the older years. From working with PlayBoard I changed the way I did play in my class, enabling the children to have an opportunity to play which had a positive impact all round, improving punctuality, improving attendance, and enabling the children to form positive relationships again after a long time home schooling during the pandemic. It had a positive impact all round, on what I did in the classroom, and the children's experiences.
"From being involved in the PlayBoard sessions we have also made moves to make our Shared Education lessons more play-based, to focus more on our break times and lunch times together and the opportunities that our children have to play and to build relationships and friendships."
Watch PlayBoard's new animation at https://youtu.be/IqWs2DHXv8M
Last updated 7 months 3 weeks ago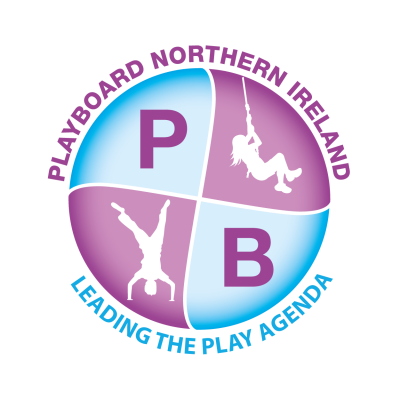 PlayBoard NI
7 Crescent Gardens
Belfast
BT7 1NS
United Kingdom