Inclusive play park study reports families facing exclusion from play parks
Fifty-seven percent of families who have a child with a physical, learning, sensory, medical, undiagnosed or complex need are unable to play in play parks as often as they would like ...
Thursday / 03 March 2022 2:39pm
Fifty-seven percent of families who have a child with a physical, learning, sensory, medical, undiagnosed or complex need are unable to play in play parks as often as they would like, with a similar amount (56%) having to travel long distances to access a play park that meets their family's need. That's the findings from a report published by PlayBoard NI and the Mae Murray Foundation following research carried out with families in Northern Ireland.
The Let me play – Inclusive play park study aims to inform policy makers and those involved in play park development about the lived experience of families regarding outdoor play experiences within fixed play parks.
The research involved focus groups, one-to-one sessions and an online survey, with findings grouped across six thematic areas which have been identified as contributing to the exclusion of some families from play parks in Northern Ireland.
Getting to the play park – the infrastructure surrounding the play park is important such as appropriately placed drop-kerbs and accessible public transport.
Play park site facilities – facilities which meet the needs of all users are fundamental to inclusion. 49% indicated that in order to use a play park they required a disability friendly toilet, to Changing Places standard. 30% identified insufficient or inappropriate parking provision.
Access to play – improvements have not been sufficient to provide high quality participative play opportunities for all. Equipment and activities need to be provided for different ages and abilities and should be able to be accessed in a range of different ways.
Participation in play – whilst progress has been made, innovation in design to offer participants choice to actively engage in a range of rich and challenging play experiences is required.
Communication – effective communication regarding play parks is paramount including what play opportunities and facilities are available, accessible signage, and opening and closing times.
Attitudes – many respondents reported encountering poor attitudes from other users whilst using play parks. Proactive, cross-sectoral working which celebrates diversity and tackles negative attitudes is key.
Launching the report, Alan Herron, PlayBoard's Director of Service Delivery and Development said:
"PlayBoard has been working closely with the Mae Murray Foundation for the past number of years and we are pleased to share this important report on inclusive play parks. Let me play clearly highlights that despite the creation of new fixed play spaces, families who have a child with a physical, learning, sensory, medical, undiagnosed or complex need continue to be excluded from play parks in Northern Ireland. Play park provision must evolve for people of all abilities to enjoy their right to play. This study offers play space providers an insight into the experiences of families affected, with a number of key recommendations."
Alix Crawford, Mae Murray Foundation Chairperson added:
"I am thrilled we are launching the Let me play study with PlayBoard. No one should be excluded from taking part, having fun and making friends, in outdoor play parks. It is shocking that families today are still facing the exclusion my own family faced some 20 years ago and we simply must address these man-made barriers.
"I would like to thank and pay tribute to the 500 families who contributed to the study, sharing their lived-experiences. When the people experiencing the barriers first-hand are involved, solutions can be found. I believe their contributions are the catalyst for change and look forward to building on the study findings with further work to implement true inclusion in our outdoor play spaces in Northern Ireland."
Positive next steps suggested by the report are:
Play park providers to engage with families with lived experience and fully involve them throughout the play park design process to co-produce workable solutions.
Play park providers to make use of the Let me play study findings to influence play park design.
Leading play organisations and other interested parties agree universal terminology and definitions in relation to fixed play parks and spaces within the UK.
Development of guidance to support play park and play space providers to build inclusive play parks and spaces.
The importance of ensuring that children of all abilities are able to access physical activity opportunities was recently highlighted by the UK Chief Medical Officers who published a physical activity guide for disabled children and young people. The need for further progress on the issue was also reinforced by the UN Committee on the Rights of the Child which noted that children with disabilities across the UK continue to face barriers in the enjoyment of those rights guaranteed by the Convention, including in the right to access to health services, leisure and play.
PlayBoard and the Mae Murray Foundation acknowledge the support of the Children and Young People's Strategic Partnership (CYPSP) in developing this research.
To download the report and listen to the podcast launch go to www.playboard.org/inclusive-play-park-study-reports-families-facing-exclusion-from-play-parks
Last updated 1 year ago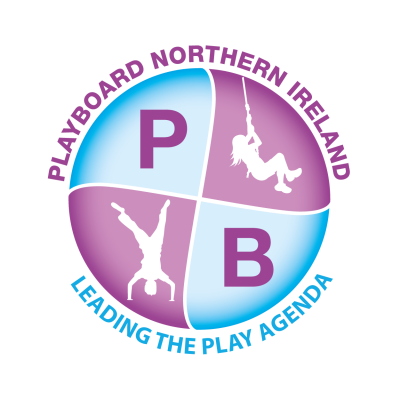 PlayBoard NI
7 Crescent Gardens
Belfast
BT7 1NS
United Kingdom