Huntingtons Disease Awareness Week 2016
Help us raise awareness of Huntingtons Disease in Northern Ireland 26-30th September
Thursday / 22 September 2016 11:41am
HD is a rare inherited brain disease that usually affects adults between the ages of 30-50 causing a gradual decline in their ability to control movement, speech, thoughts and behaviour. Eventually full time care will be required and there is currently no cure. People usually live with symptoms for 5-20 years before death. Huntingtons has been called the family disease as every child born from a parent with the HD faulty gene has a 50% chance of developing the disease regradless of gender or how many other siblings have the condition. Carers tend to be caring for multiple family members at the same time or generation after generation. We know that there are over 150 people currnently symptomatic in Northern Ireland and as many as five times that at risk of developing the disease.
There is little knowledge of the disease among the general public despite it featuring in a number of TV storylines including Emmerdale, Eastenders, Causalty and US shows Scrubs, House and ER. There is also limited knowledge and understanding among health and social care professionals which can be frustrating for carers and patients seeking help and advice. To help counter this we are running our second annual HD Awareness week from 26-30th September,

HD Awareness Week kicks off on Monday 26th September with the launch of our new website at Stormont (Room 115 330-430pm). The website www.hdani.org.uk has been the result of months of work collating the best resources on HD for professionals as well as information, advice and support directed at patients, carers and young people. We are indebted to Christine Cahoon of Platypus for her generosity and time in helping create this vital new hub which we will be directing health and social care professionals to or up to date research news and best practice guides for managing the disease.
On Thursday 29th September we will host over 70 health and social care professionals from across Northern Ireland to a HD training seminar with local and visiting experts on Huntingtons Disease at the Post Grad lecture theatre at Belfast City Hospital from 5-830pm. Speakers include Dr Jennifer Hoblyn, clinical director of the Bloomfield Hospital the site of the only dedicated HD unit on the island of Ireland as well as specialist speech and language, nutritional and music therapists from the HD unit at the Royal College for Neuro-disability in London.
On Friday 30th these speakers and more will take part in our annual patient and family conference at La Mon Hotel, with over 100 delegates already registered it promises to be a day of education, sharing and fun.
Throughout the week we will be using social media to share information and insight into HD. You can help us raise awareness and promote understanding of HD by following us on Twitter @HDAssocNI and by helping us reach our Facebook target of 2000 likes by Friday midnight https://www.facebook.com/Huntingtons-Disease-Association-Northern-Ireland-364489753708919
If you would like to learn more about HD and the work we do email [email protected] or visit our shiny new website www.hdani.org.uk 
Last updated 3 years 6 months ago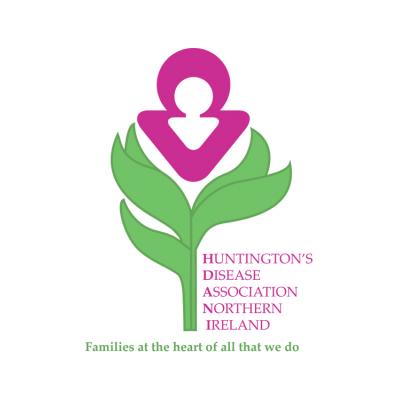 Huntington's Disease Association Northern Ireland
HDANI (correspondance only)
53, Andersonstown Road
Belfast
BT11 9AG
United Kingdom