Flags, Identity, Culture and Tradition - have your say
You may be aware that the Commission on Flags, Identity, Culture and Tradition has been established as part of commitments made under the Stormont House and Fresh Start Agreements.
Tuesday / 06 December 2016 10:49am
In order to inform its work, the Commission is now beginning the process of engagement to gather the views and opinions of those who wish to contribute from across our community.
We would like the opportunity to engage with the Section 75 Sector and would like to invite you to participate at one of these engagement meetings, details of which can be found below.
What sort of questions do we have?         
In your opinion how can we ensure that in Northern Ireland we develop a rich diverse community in which cultural expression can be celebrated?
Do you have any examples of positive practice in relation to display of flags, identity, culture and tradition that have been accepted in a positive manner by communities of different backgrounds and traditions?
What do you consider are the issues in respect of flags, identity, culture and tradition in your community or within Northern Ireland as a whole?
What barriers presently exist to making progress to become a society that understands and accepts different cultures and expressions of these?
We have a number of sectoral and public meetings taking place in the next coming months;
DATE
TIME
VENUE
SECTOR
Tuesday 6th December
7.00pm
Bridewell – Magherafelt
MID ULSTER PUBLIC MEETING
Thursday 8th December
7.00pm
Belfast MET College – Titanic Quarter
BELFAST PUBLIC MEETING
Monday 12th December
10.00am
NICVA
Women's Sector
Tuesday 13th December
4.00pm
Queens University
Academia/Law/Commissions
Thursday 15th December
2.00pm
Rural Community network
Rural
Monday 19th December
10.00am
NICVA
Section 75 groups
Thursday 22nd December
10.00am
Queens Sport Centre
Sport
Monday 9th January
10.00am
FARSET
Young People
Tuesday 10th January
7.00pm
Canal Court Hotel
NEWRY PUBLIC MEETING
Thursday 12th January
10.00am
174 Trust
Education sector
Tuesday 17th January
10.00am
The MAC
Media
Thursday 19th January
7.00pm
Adair Arms Hotel Ballymena
NORTH EAST PUBLIC MEETING
Monday 23rd January
10.00am
174 trust
Public Sector & Unions
Thursday 26th January
7.00pm
The Guild Hall – Subject to Change
LONDONDERRY / DERRY PUBLIC MEETING
Tuesday 31st January
7.00pm
Fermanagh Rural Community Initiative
ENNISKILLEN PUBLIC MEETING

If you wish to attend any of the meetings please RSVP to [email protected]
Last updated 6 years 3 months ago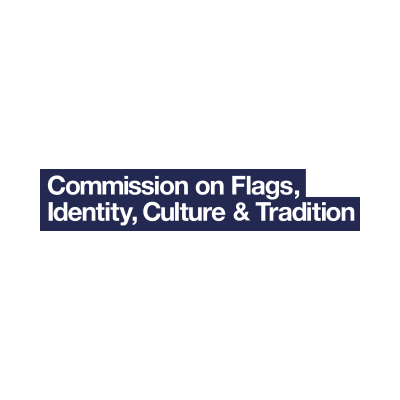 Commission on Flags, Identity, Culture & Tradition
FICT Commission
Block E, Castle Buildings
Belfast
BT4 3SR
United Kingdom