Job | Part Time
Donor Services & Finance Administrator
Administration
On Application
22.00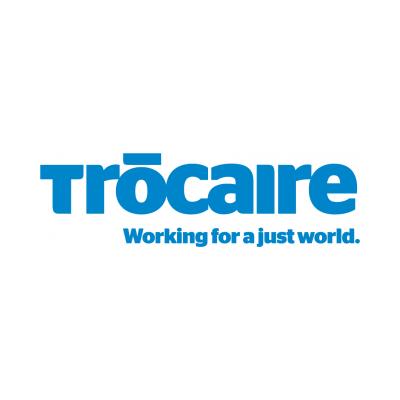 The Donor Services unit is responsible for the processing of all sources of income across Northern Ireland. This involves the receipt, recording and acknowledging of donations.
Trócaire works in partnership with local and church organisations, supporting communities in over 20 developing countries across Africa, Asia, Latin America and the Middle East to bring about lasting change. Trócaire envisages a just and peaceful world where; people's dignity is ensured and rights are respected; basic needs are met and resources are shared equitably; people have control over their own lives; those in power act for the common good.
The Donor Services unit is responsible for the processing of all sources of income across Northern Ireland. This involves the receipt, recording and acknowledging of donations. The unit also takes responsibility for handling donor queries & complaints to the satisfaction of our supporters.  The role is also responsible for administration support for the HQ Finance Division that includes bank reconciliation, donation reconciliation, petty cash, bank liaison and some supplier payments.  A meticulous, methodical approach to the responsibilities and duties outlined below is crucial.
For the candidate with the required experience and passion for the role, Trócaire offers a competitive package of salary and benefits.
Reporting to the Donor Services Lead Administrator, this is a part time contract (22 hours per week) of indefinite duration and is based in the Belfast Office[1].
Safeguarding Programme Participants-Children & Adults
Trócaire is committed to Safeguarding people within our programmes from Exploitation and Abuse and has specific policies on this commitment (including a Global Code of Conduct) which outlines the expected behaviour and responsibility of all staff, consultants and other organisational representatives. Any candidate offered a job with Trócaire will be expected to sign Trócaire's Safeguarding Policies and Global Code of Conduct as an appendix to their contract of employment and agree to conduct themselves in accordance with the provisions of these documents
Key Duties & Responsibilities
Donor Services Administration
The following are a range of tasks carried out by the Donor Services team, and which will be delegated by the Donor Services Lead Administrator across the team, to ensure a varied workload:
Timely and accurate preparation and processing of donation batches, recording all donations and related details on Trócaire's CRM platform, Salesforce, and ensuring prompt acknowledgment

Ensuring all systems for the handling of incoming and outgoing post are maintained

Support on process of Standing Orders, bank transfers and coin collection reconciliations within the monthly deadline

Support the processing of Gift Aid declarations as received thereby facilitating Trócaire's quarterly submission to the HMRC

Assist when required with administrative requirements of key campaigns including Trócaire Gifts and the Lenten Campaign

Support the operating of reception when required; includes greet supporters, direct calls, deal with face to face queries and accept donations from the public

,

maintaining the highest possible standards of donor care at all times and in accordance with our Supporter Charter.  Also deal with queries from supporters via telephone, email, web and post applying the same professional and courteous manner
Financial Administration
Preparation of monthly Fund and Income reconciliation's and monthly bank reconciliations

Process supplier invoices and payments through the finance systems, includes use of online banking

Process employee expense claims and travel floats

Maintenance of petty cash for the Belfast office and monthly reconciliation's of petty cash

Support on Audit Preparation across the team and support on any recommendations for implementation across the office

Support the management of Trócaire NI bank accounts and relationships with each bank

Support with filings of audited accounts with Companies House and annual returns with Charity Commission Northern Ireland

Support to ensure compliance to all regulations and support Head of Region on areas of financial and donation compliance for Trócaire Northern Ireland 
Other
Attend training at Trócaire's Head Office in

Maynooth and/or elsewhere as required

Other duties as directed by the line manager or Head of Region
Person Specification – Essential Requirements
(E) Qualification
Minimum of 5 GCSEs, Grade C or above, including Maths & English or equivalent.
(E) Experience
A strong working knowledge of Microsoft Word & Excel

Good knowledge and proven experience with financial system packages

Attention to detail and accuracy

Excellent numeric skills

Cash Handling & Banking

Excellent communication skills

Ability to work well under pressure and to meet deadlines

Excellent organisational skills

Solid Understanding and experience of processing Bank Reconciliation's

Problem solving – ability to resolve queries/complaints as and when they arise

Ability to work alone and as a member of a team
(E) Experience
2 years successful customer service experience

2 years successful financial administration support experience in a similar department
(E) Skills
A strong working knowledge of Microsoft Word & Excel

A strong working knowledge of Financial systems and CRM's

Knowledge of Agresso finance systems is desirable but not essential

Attention to detail and accuracy

Excellent numeric skills

Cash Handling

Excellent communication skills

Ability to work well under pressure and to meet deadlines

Excellent organisational skills

Problem solving – ability to resolve queries/complaints as and when they arise

Ability to work alone and as a member of a team
(E) Qualities
Enthusiasm and initiative

A flexible and positive approach
(E) Other
A sound and informed understanding of Trócaire's work, both at home and in the developing world
Person Specification – Desirable
(D) Experience
Experience of working in an office environment

Significant financial administration experience

Experience of working with a CRM system or database like Salesforce
[1] As this post is based on the Island of Ireland, non EU / EEA nationals will require current and valid permission to work and reside in the Island of Ireland as work permits are only issued in exceptional
Closing Date
Tuesday / 14 July 2020 5:30pm
5:30pm
Contact Details
50 King Street
Belfast
BT1 6AD
United Kingdom
More Information
To apply, please click on; https://apply.workable.com/trocaire/j/980E0005E8/