Fundraiser
Event
Walk & Talk

Nexus
This is a free event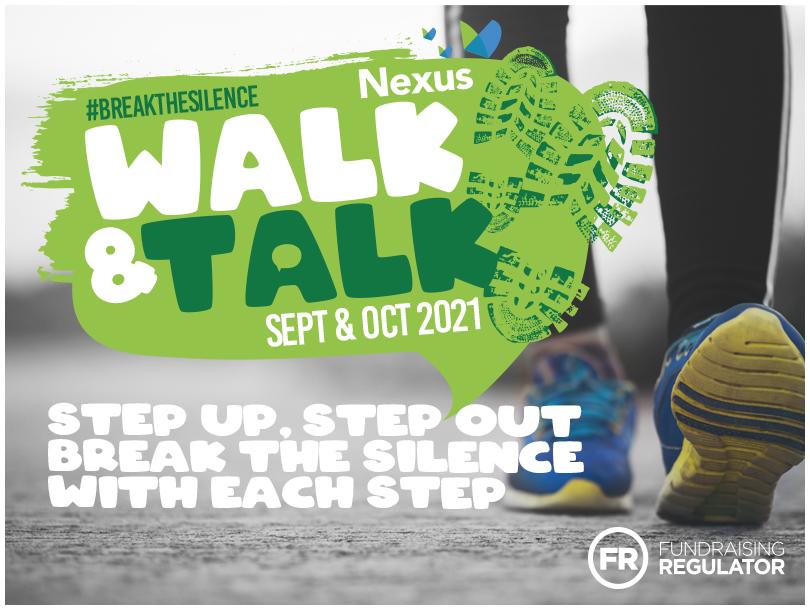 Join Nexus for our new walking challenge as we collectively aim to walk 1000km across NI, while helping to #breakthesilence on sexual trauma with every step!
It's totally flexible and everyone can take part
Pick a specific route or a target distance

Pick a timeframe

Get walking and fundraising to help support survivors of sexual trauma and break the silence
The possibilities are endless:
e.g., 1 mile or 5km a day for a week/fortnight/month; a 5km or 10km walk in your local area or park; climbing Cave Hill or completing a coastal path; completing 100km by the end of September/October.  
Get walking, fundraising and #breakthesilence
We ask people to simply raise what they can in sponsorship or make a donation in support of our work. You can set up your online fundraising page or donate at https://www.justgiving.com/campaign/walktotalk.
Every £60 raised will help to fund a counselling session for a victim/survivor of sexual trauma in Northern Ireland.
To help you #breakthesilence during your challenge and beyond, we will send you some Nexus goodies when you reach a fundraising milestone including our charity facemask, colourful t-shirt and fabulous new reusable water-bottle!
Location
59 Malone Road
Belfast
BT9 6SA
United Kingdom
View Map
Contact Details
More Information