Online / Virtual
Event
Virtual Community Camp ( certified)

Eden Project Communities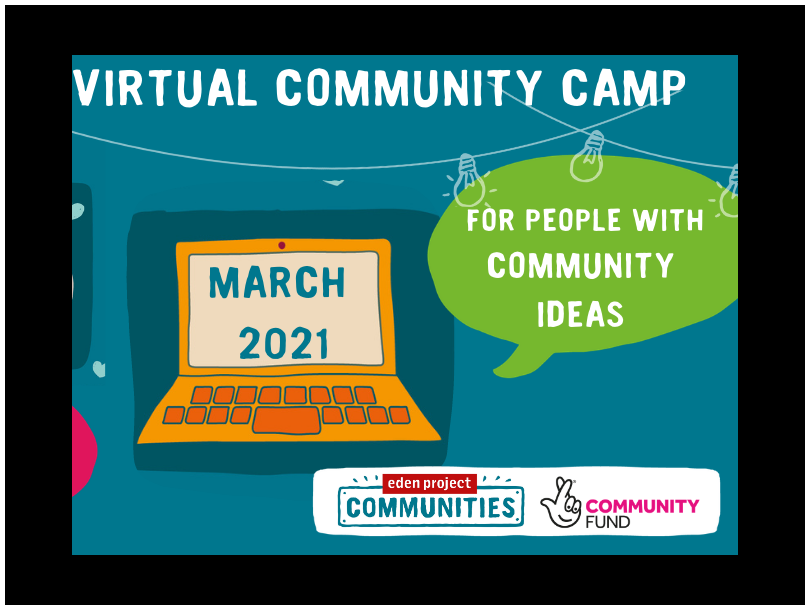 Do you have an idea you want to start up in your neighbourhood? Or do you know someone who makes a difference where you live? Eden Project Communities partnered with National Lottery are delivering a UK Virtual Community Camp in March 2021. Certified by Prospect \Awards - you could gain a qualification with no tests or home work and help your own community.
The free camp is an immersive learning experience, with a mix of practical activities, workshop sessions and networking opportunities for people from across the UK.
Last year Eden Project Communities hosted its first ever virtual camp, and 99% of the participants rated the programme either excellent or good overall, and 97% would recommend Virtual Community Camp to others.
It has proven to be a "life-changing" opportunity for those that have taken part in the past, and gives people the opportunity to explore what is possible within their community.
Thanks to people who play the National Lottery, this certified community learning and leadership experience is offered free of charge by award winning educational social enterprise the Eden Project.
This year's sessions have been designed to recognize everyone's different working schedules, and considers those who may be working part time furloughed, or have additional caring responsibilities.
"Eden Project Communities camps provide opportunities to link in with a network of more than 1000 other people across the UK to share ideas, inspiration, and experience, and to re-energize your community project and yourself.
"Whether you want to do something on your street or with a wider community we want to introduce you to other people passionate about community who want to cross pollenate ideas with you. I'm looking forward to meeting this year's candidates and see what they go on to achieve."
If you know someone who might be interested – the application is simple and should take no more than 20 minutes to complete.
The sessions will run over a five week period and are delivered flexibly
Contact [email protected] or visit https://www.edenprojectcommunities.com/community-camps
read the news story and hear from previous participants
https://www.communityni.org/news/eden-project-seeks-people-passionate-about-community
Sector:
Carers
Children and families
Community development
Community relations
Education/training
Health and wellbeing
Men
Older people
Rural development
Volunteer development
Women
Young people
Location
online
belfast
bt7 2dd
United Kingdom
View Map
Contact Details
National Lottery Community Fund