Informal Meetup Outdoor Activity Training/Advice Workshop
Event
Team Away Day in Northern Ireland
Bespoke Communications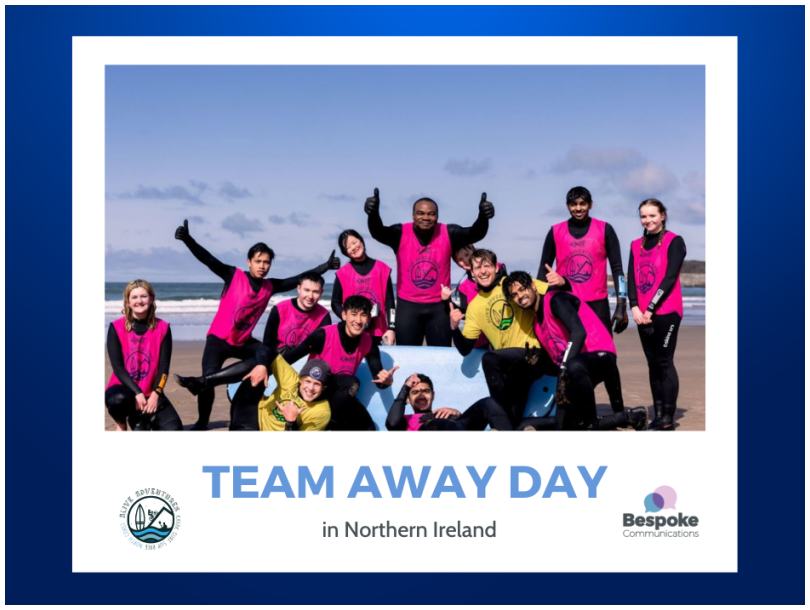 After the changes of the last two years, it's more important than ever for your team to come together to build bonds and get to know one another. Your team might have welcomed new people, or maybe you have been working remotely and you'd like to get to know one another again.   
If you'd like a team away day with a difference, what better way than with an outdoor adventure! Bespoke Communications has teamed up with leading outdoor activity provider, Alive Adventures in Portrush to offer an away day with a difference.  This is the only team away day in Northern Ireland to develop your team's business skills, as well as offering outdoor activities on the beautiful Causeway Coast.
A team away day is a fantastic way to encourage your team to look at different points of view, get to know one another and develop their skills. We facilitate your workshop in the Alive Adventures newly renovated Business Centre, and we host your activity on land or in the sea, according to your team's preference.  We can design a unique package for your team over one, two or three days.
Our Team Away Day includes:
Skill-building

workshops bespoke to your teams needs

– on topics as diverse as communication skills, resilience, neuro-diversity, mindfulness or we'll listen to you and offer a workshop around your specific requirements

Adventure activities such as surfing, stand-up paddleboarding, e-bikes and guided kayaking

. Activities on land and at sea are possible. 
One-day packages include breakfast and lunch. Dinner and accommodation can be arranged for two and three-day packages.
Contact us today for a bespoke adventure in the most beautiful part of Northern Ireland so you can make a lasting impact on the strength and unity of your team.
Contact Details
More Information
For more information please visit