Training/Advice
Event
Social Media BOOST BOOTCAMP with Tina Calder of Excalibur Press
Excalibur Press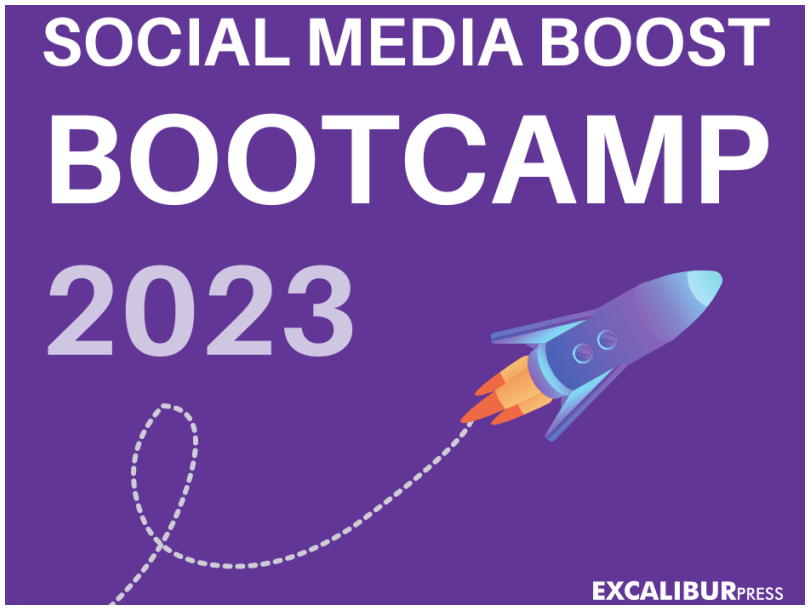 In this bootcamp you will get a series of bitesized, quick to digest and easy to implement top tips and advice to help you take action on your social media quickly this year.
Led by communications strategist and trainer Tina Calder, owner of UK based media & marketing agency Excalibur Press, will unveil the tools and secrets used by the professionals to create social media strategies, plans and content for her clients.
Supported by the team at Excalibur Press the Social Media Boost Bootcamp has been created to give business owners, marketers and social media managers access to tips, advice and expertise used on a daily basis to work with clients across a wide range of sectors and industries.
Starting on January 10th, 2023 (you can purchase this Bootcamp any time and have access to all content) for six weeks (for live content) you will be empowered through regular posts, resources and live sessions to supercharge your social media strategy, planning and content.
You can join the bootcamp any time up to May 31st.
This bootcamp will also feature a series of optional challenges and content prompts.
The Social Media BOOST Bootcamp content will include:
Strategy & planning
Generating ideas
Managing & maintenance
Written content & captions
Photo content
Video content
Graphics & visuals
Functionality
Lead generation & sales
Blogging on social
Building a community
New developments & news
What you will learn:
How to create a basic social media strategy
Photography tips
How to turn that strategy into a plan of action
Videography tips
How to plan, schedule and distribute that content
Developing your language and tone of voice
Using emojis & hashtags
What platforms you should consider and why
Storytelling on social media
What functions should you think about on each platform (eg, Hashtags, Stories etc…)
Ways to brainstorm content
Creating a content calendar
Scheduling your content
Streamlining your social media
Where to get ideas
79 ideas you can use
Types of content you can create
Monitoring comments
Optimising your social platforms
A sample schedule plan you can follow
The importance of branding
Generating leads and making sales on social
Creating great call to actions
Tools we use at Excalibur Press
Blogging on social media
Building a community
Why your social media should be part of your wider marketing campaign
How to create content for every step on the customer journey
And much much more...
Location
Belfast Central Library
Royal Avanue
Belfast
BT1 1EA
United Kingdom
View Map
More Information
Please note this is an online event.
Book your place on the bootcamp NOW!