Online / Virtual Training/Advice
Event
Preparing for your OISC Level 1 Assessment

Law Centre NI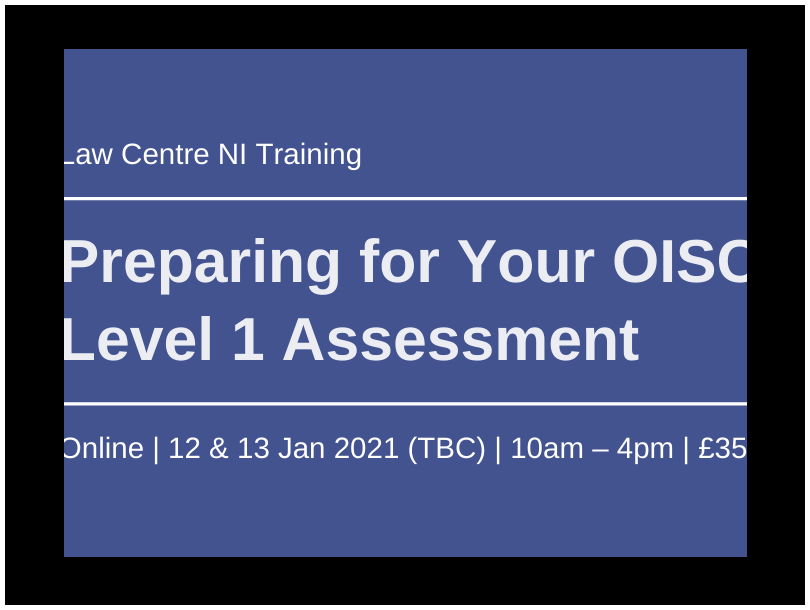 This two day course will give you everything you need to pass the online assessment to attain your OISC level 1 immigration certificate, including a preparatory mock examination with Law Centre NI. Law Centre NI will assist you in co-ordinating your online OISC assessment.
The OISC level 1 certificate is essential for those giving basic advice on immigration, giving you a better understanding of OISC regulations, EU law and asylum law, ensuring participants are confident in providing immigration advice within the regulatory framework.
Online | 12 & 13 Jan 2021 (TBC) | 10am – 4pm | £350
What does the course cover?
First tier immigration queries.

How to identify where more specialist advice is required.

Understanding OISC core requirements for giving advice.

Building confidence by understanding OISC regulations and system of ethics.

Includes preparatory mock exam.
Who is it for?
This training is designed for front line advice providers who wish to take an online OISC assessment.
How does it work?
This two day course includes blended learning alongside written resources, webinars and assessment. It puts the learner in the best possible position for completing their online OISC assessment.
What are the benefits of online learning?
You will enjoy a blend of learning styles, including face to face learning, discussion and interactive activities.
You can join the training in an environment that suits your arrangements, complimenting a flexible working environment.
You will receive ongoing support provided by your tutor, underpinned by Law Centre NI's expert legal and policy team. You will also enjoy the support and social interaction of other learners during group study.
Booking:
For more information on costs and bookings, please contact the Law Centre NI training team at [email protected] | (028) 9024 4401.