Seminar Training/Advice Workshop
Event
Performance Analysis and Stats in Sport: An Introduction - Run in association with Queens University Open Learning

Lear Training
Cost:
£78.00 concessions available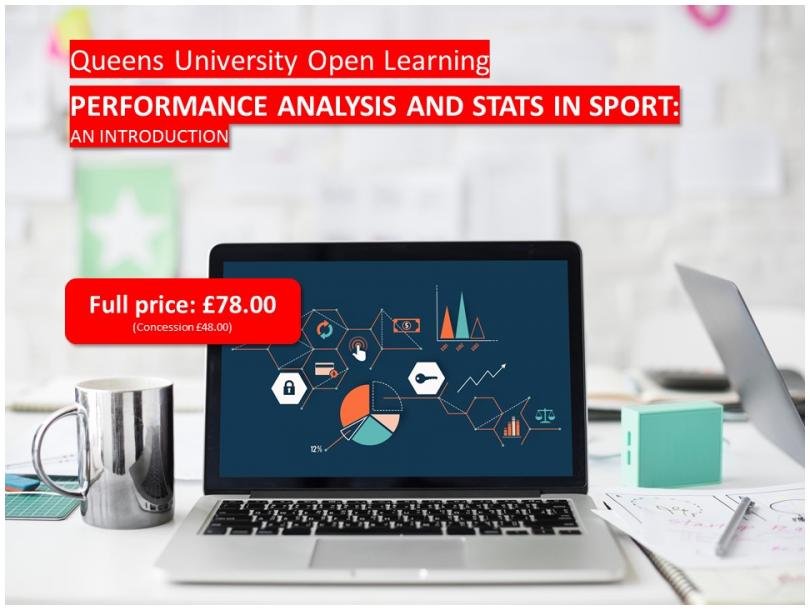 This course run in association with Queens University Open Learning is a practical introduction to the concepts and technologies that underpin video and data analysis using the sports world as its case study. So, if you are a sports coach, aspiring analyst, teacher, social media blogger, sports journalist or simply enthusiastic about data and human performance then join us on this practical course to develop your performance analysis skills.
What can business learn from sport?
This course, while using sports as its case study will provide a wide range of opportunities for participants to explore the transfer of performance analysis into the business and community sectors. 
CATS points
This course provides 10 CATS at Level 1 that typically equates to the first year of a traditional three-year primary degree. 
The CATS (Credit Accumulation and Transfer Scheme) points system is recognised by many UK Higher Education institutions such as the prestige Universities including Queens and Oxford as a method of quantifying credit for a course.
Credit can be offered at different levels - e.g. Level 0, 1, 2. The level gives an indication of the difficulty of the course or, in positive terms, the intellectual rigour of the course.  
Sector:
Community development
Education/training
Health and wellbeing
Sport/recreation
Volunteer development
Location
Queens University
36 Belfast Road
Belfast
BT7 1NN
United Kingdom
View Map
Contact Details