Art & Culture Online / Virtual Seminar Workshop
Event
One World Festival NI 2020
CADA
This is a free event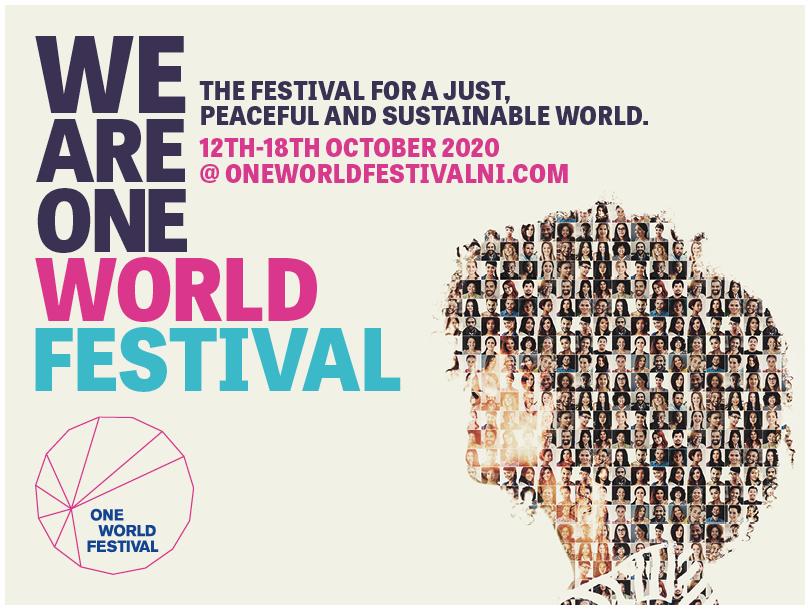 One World Festival is back! From the 12th - 18th October you can discover new perspectives, explore global issues with (mostly) online, streamed and interactive events. Find out more and book now at oneworldfestivalni.com
This year, One World Festival aims to bring people together at a time we are physically apart, to engage with our diverse communities here in Northern Ireland, but also with people around the world. To encourage participation, we have made One World Festival 2020 a primarily virtual Festival, allowing everyone to take part safely. The virtual Festival also means we can increase engagement with diverse groups and people, including those from the Global South.
Hosted by a variety of groups, organisations and individuals, there truly is something for everyone in our programme, including; talks and discussions, storytelling, drama, music, documentaries and films, art workshops and much more. One World Festival coincides with a number of world UN days, highlighting issues such as climate change, modern slavery, gender equality, hunger and poverty. Many of our events address these topics, as well as race relations in Northern Ireland in the wake of Black Lives Matter, the effect of Covid-19 on human rights, and the refugee crisis.
Increasingly, Northern Ireland is a place of diverse backgrounds and new beginnings: we believe we can learn and gain so much from this diversity. Join us at One World Festival 2020 to stand in solidarity with those for whom injustice, poverty, hunger and inequality are still a factor of daily life, both around the world and here at home.
#WeAreOne
Sector:
Arts
Children and families
Community development
Community relations
Environment and Built Heritage
Health and wellbeing
Lobbying/policy
Race/ethnicity
Volunteer development
Women
Young people
Location
c/o Concern Worldwide
47 Frederick Street
Belfast
BT1 2LW
United Kingdom
View Map
Contact Details
More Information