Conference Online / Virtual Training/Advice
Event
Level 3 In Education And Training (Online/Blended 1 x Workshops)

Lear Training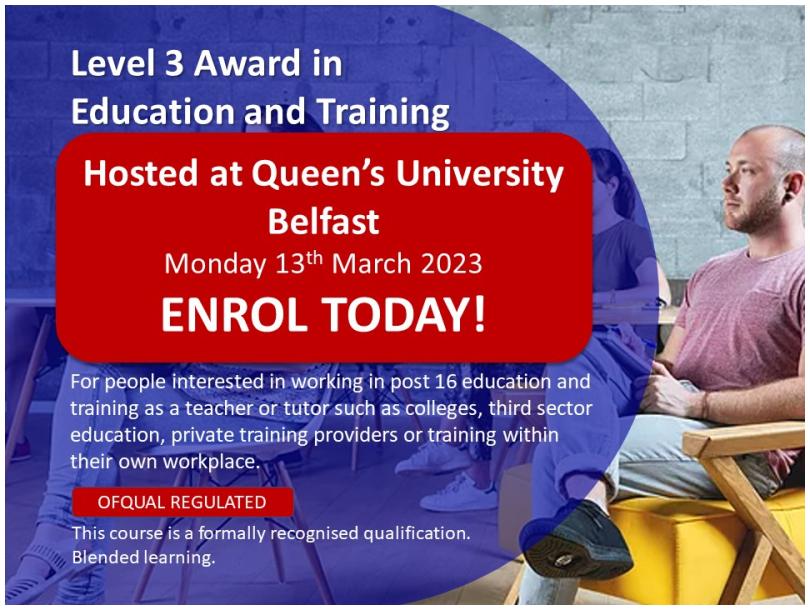 Are you looking to embark on a career as a post-16 teacher or trainer? The Level 3 Award in Education and Training is an essential introduction and license for those who work or wish to work as teachers or trainers in further or adult education and work-based learning. It is an ideal qualification for those who have no previous teaching experience or qualifications, as well as those who are already working in the education sector who would like to gain an officially recognised qualification.
Enhanced module on special educational needs
If you are looking to gain expertise in the field of special education? Our education and training course includes an online enhanced module on special educational needs, covering a range of topics from identifying and assessing students' individual needs to developing and implementing effective interventions. This is a unique opportunity to deepen your understanding of this important area and become a more effective educator. The online module is FREE for anyone enrolling on the level 3 award in education and training qualification.
Potential to generate a second income
Our course is unique in that it covers course design for face to face and online enabling you to explore opportunities to generate a second income.
20 years of experience
Our education and training course is led by a highly experienced educator who has been working in the field for over 20 years. With a wealth of knowledge and professional practice they are well-equipped to guide you through the course material and provide valuable insights and practical advice. This is a unique opportunity to learn from a seasoned professional and benefit from their wealth of experience in a broad range of educational settings including SEN.
Sign up now and take advantage of this opportunity to participate in the only education and training course that will give you practical strategies that will have an impact in your class immediately.
Sector:
Community development
Disability
Education/training
Volunteer development
Location
Hosted at Queen's University
Belfast
BT7 1NN
United Kingdom
View Map
Contact Details