Training/Advice
Event
Level 3 Diploma in Exercise Referral

Platinum Training Institute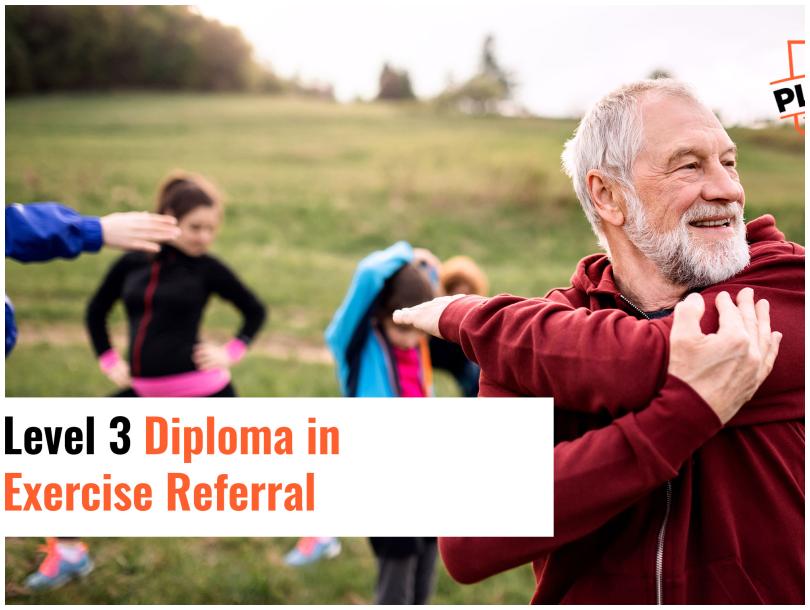 The qualification aims to equip the learner with the skills, knowledge and understanding required to plan and instruct programmes for exercise referral.
Learners will cover:
Skills relating to the qualification:
Collect and analyse nutritional information and apply the principles of nutrition to a physical activity programme.
Collect information about exercise referral patients and prepare patients and resources for exercise referral sessions.
Instruct, adapt, conclude and review exercise referral sessions. Agree goals, plan, manage, review progress and adapt an exercise referral programme with exercise referral patients.
ENTRYREQUIREMENTS:
Learners should be 16 plus and must hold one or more of the following:
Level 2 Certificate in Fitness Instructing or equivalent
Level 3 Certificate in Personal Training
Level 3 Diploma in Teaching Pilates
Level 3 Diploma in Teaching Yoga
QUALIFICATIONS STRUCTURE:
The learner must complete:
• Unit 1: Professional practice for exercise referral instructors
• Unit 2: Understanding medical conditions for exercise referral
• Unit 3: Planning exercise referral programmes with patients
• Unit 4: Instructing exercise with referred patients
• Unit 5: Applied Anatomy and Physiology
• Unit 6: Nutrition to support physical activity
Sector:
Community development
Education/training
Health and wellbeing
Older people
Location
Level 4, Queen's University Belfast, Physical Education Centre
Botanic Park
Belfast
BT9 5EX
United Kingdom
View Map
Contact Details
email: [email protected]
website: www.platinumtraininginstitute.com
phone: 028 9543 4321