Training/Advice
Event
Level 1 Makaton Training
Next date:
Saturday 27 June 2020 10:00am

Mid Ulster Volunteer Centre
Cost:
£60 per person (non refundable) and needs paid in advance of course to secure your place.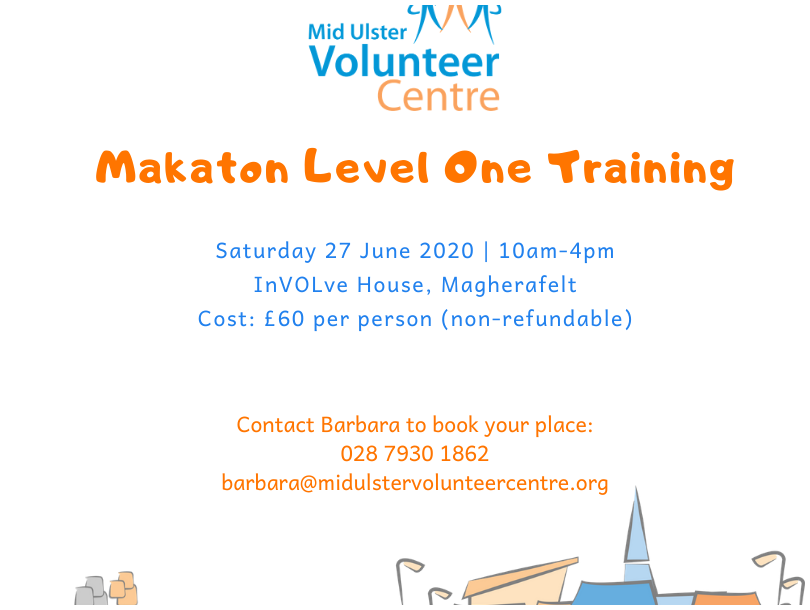 Level 1 Makaton training is the starting point for learning Makaton. It is recommended for: parents, family members, carers and workers who need to use Makaton at home and in their work participants who need a more detailed knowledge about using and applying Makaton to develop the communication skills of others
The Level 1 workshop provides a detailed introduction to Makaton and combines theory and practice. During the workshop participants will learn signs and symbols from stages 1, 2 and the additional stage and how to incorporate these into everyday use.    
Recommended for:
Professionals who need to use Makaton in their work

Family members who wish to use Makaton with their relative

People who require in-depth Makaton training

Essential part of entry criteria for Makaton Tutor Training
Learn:
Signs and symbols from the core vocabulary stages 1, 2 and additional

Information on sign and symbol use

How to implement Makaton
Participants will receive
Workshop manuals which include a copy of the signs and symbols covered

Certificate of attendance
Location
InVOLve House
16-18 Queen Street
Magherafelt
BT45 6AB
United Kingdom
View Map
Contact Details
To Book your place contact
Barbara Kennedy
028 7930 1862