Fundraiser Outdoor Activity
Event
India Dalai Lama Trek 2020
Next date:
Thursday 01 - Sunday 11 October 2020 9:00am

Action Cancer
Cost:
Registration: £200pp; Minimum Sponsorship: £3,800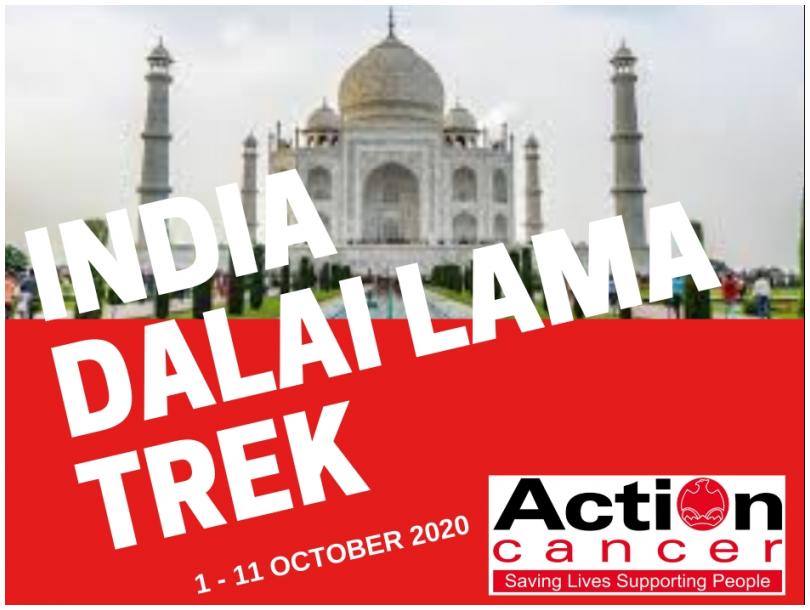 Join Team Action Cancer as we explore the stunning country of India on the Dalai Lama Trek in October 2020.
The mystical town of Dharamsala in India is home to the Dalai Lama and the starting point for this fantastic adventure which will see participants trekking through the foothills of the majestic Himalaya's – the world's highest mountain range. There will be some time to spend in this fascinating town before setting off to explore the best sights and sounds of this stunning Indian region.
The trek includes a trail through the Kingdom of Gaddi (a semi-nomadic race who spend months wandering the high passes with their cattle) as well as spectacular views of the Daula Dhar Mountain Range and the colourful rhododendron forests, Hindu settlements and Buddhist Monasteries. Immersed in the local culture, trekkers will benefit from an authentic adventure unlike any other as they make their way to the Taj Mahal - one of the new Seven Wonders of the World.
Offering everything you could ever wish for from a trip to India, this trek is undoubtedly the challenge of a lifetime and we encourage you to sign up today!
The cost to register for this challenge is £200 per person and each participant is asked to raise £3,800 which will go directly to the provision of Action Cancer's prevention, detection and support services. Each participant will be fully supported by Action Cancer's Fundraising Team who are on hand to provide advice, motivation and assistance to ensure they easily meet their fundraising target.
For more information on the India Dalai Lama Trek pop along to the Information Evening at 7.30pm on Wednesday 5th June at Action Cancer House, where you will receive more detail on the challenge itinerary and have the chance to speak with past trek participants and Action Cancer Fundraisers. Alternatively,  please email [email protected] or call 028 9080 3349. 
Location
Action Cancer House
Belfast
Bt9 6EE
United Kingdom
View Map
More Information
Action Cancer House
20 Windsor Avenue
Belfast
BT9 6EE