Art & Culture Informal Meetup Outdoor Activity Training/Advice Workshop
Event
Futures Project LGBTQ+

Belfast Met
This is a free event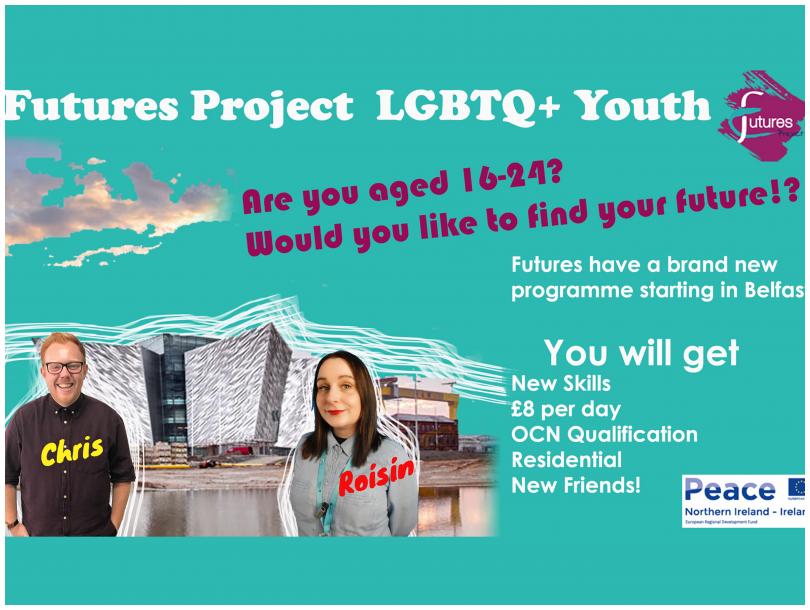 Roísín and Chris are launching a new Futures programme in Belfast. This group is open to young people aged 16-24 in the Belfast area. This is an inclusive LGBTQ+ project. The six month programme focuses on; personal development, communication, wellness, team work skills and leadership. You will receive £8 per day you attend, travel costs and child care assistance.
Futures wants to level the playing field for young people who have not had a fair deal. Futures has the skills and facilities to cater for young people from various backgrounds, abilities and experiences including refugee and asylum seekers. Please contact us to discuss particular support required. 
 
Futures will cater for young people who have or may be close to disengaging from mainstream
education and those who might have dropped out of school/college from the age of 16. We 
also support young people who might be on waiting lists for courses to give them something 
productive to do with their time and would offer a progression route onto college courses. 

Benefits - To support young people while they attend the programme, we provide travel, child care and travel costs as well as an incentive payment of £8 per day they attend. This does not affect their benefits. 
Sector:
Advice services
Arts
Carers
Community development
Community relations
Disability
Education/training
Health and wellbeing
Men
Race/ethnicity
Volunteer development
Women
Young people
Location
Belfast Metropolitan College, 398 Springfield Road
Belfast
BT12 7DU
United Kingdom
View Map
More Information
Get in touch to find out more!