Outdoor Activity
Event
FORTNITE Themed Laser Tag

The Jungle NI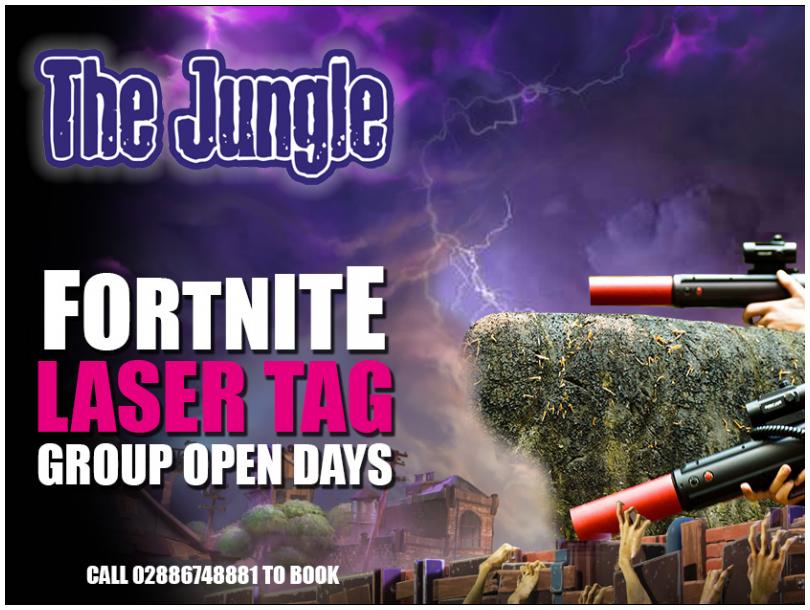 New Laser Tag Activity
We have been running our popular Laser Tag for almost a year now. It's gotten amazing feedback and everyone who has played has loved the sessions, adults and kids alike. This year, we are planning on hosting some Fortnite Themed Laser Tag days for anyone to come along and join in. We are creating a real life Fortnite themed battle simulation, so you can get a taste of what it would be like to be in the ever popular Fortnite game. We will use our existing infamous Paintball and Laser Tag game zones, only we will modify them to be able to play a Fortnite themed session.
During the 2 hour session you will be playing the following games:
A solo deathmatch in our Wailing Woods
3 separate Battle Royals across our Haunted Hill, Shifty Shafts and Lonely Lodge zones
A Zombie Match where participants will be dropped at the Haunted Hill and divided into Survivors and Cube Monsters and will battle it out in your squads.
Who can play?
These events will be open to all participants aged 8 and above. Parents and adults can play along with kids, if they can keep up!
Each session will be limited to 44 players and will last approximately 2 hours.
Sector:
Carers
Children and families
Community relations
Education/training
Health and wellbeing
Sport/recreation
Young people
Location
60 Desertmartin Road
Moneymore
BT45 7RB
United Kingdom
View Map
More Information