Conference Online / Virtual Seminar Workshop
Event
Financial Wellbeing at Work

Kith & Kin Financial Wellbeing - Social Enterprise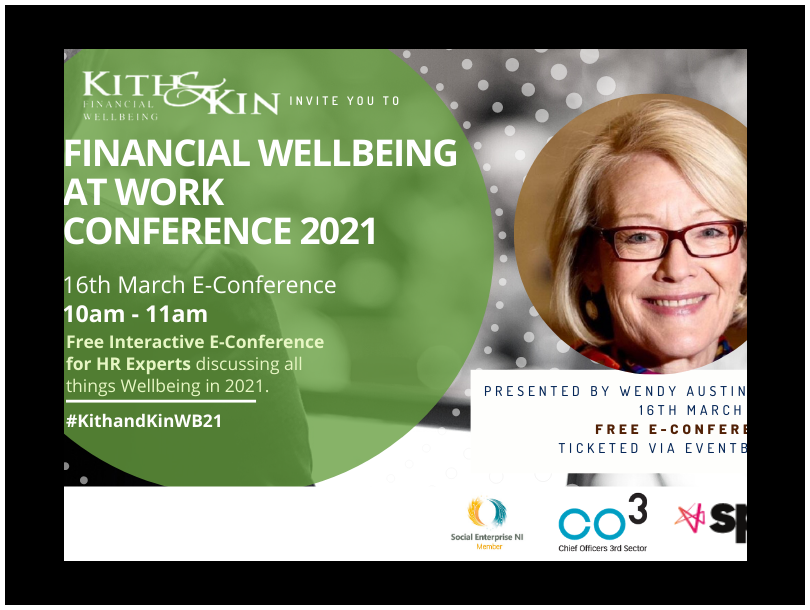 The conference will be hosted by Wendy Austin MBE, we have 3 speakers to update you on the following areas :- Charles Cotton CIPD - Reward & Performance Advisor - to speak on the benefits for Employers & Employees on Financial Wellbeing. Prof Siobhan O Neill - NI Mental Health Champion - How financial issues affect employees mentally and the impact on the employer. Julie Leonard - Employment Law Solicitor - Edwards & Co - Updating HR on their legal obligations for staff with Financial issues and Duty of Care. You can register for this free event here -
https://www.eventbrite.co.uk/e/financial-wellbeing-at-work-conference-t…
The conference will be hosted by Wendy Austin MBE, we have 3 speakers to update you on the following areas :-
Charles Cotton CIPD - Reward & Performance Advisor - to speak on the benefits for Employers & Employees on Financial Wellbeing.

Prof Siobhan O Neill - NI Mental Health Champion - How financial issues affect employees mentally and the impact on the employer.
Julie Leonard - Employment Law Solicitor - Edwards & Co - Updating HR on their legal obligations for staff with Financial issues and Duty of Care.
You can register for this free event here -  https://www.eventbrite.co.uk/e/financial-wellbeing-at-work-conference-tickets-139419544611
Sector:
Education/training
Health and wellbeing
Men
Women
Young people
Location
NICVA ,61 Duncairn Gardens
Belfast
Bt15 2GB
United Kingdom
View Map
More Information