Event
Film and Discussion
Next date:
Wednesday 22 March 2023 12:30pm

Informing Choices NI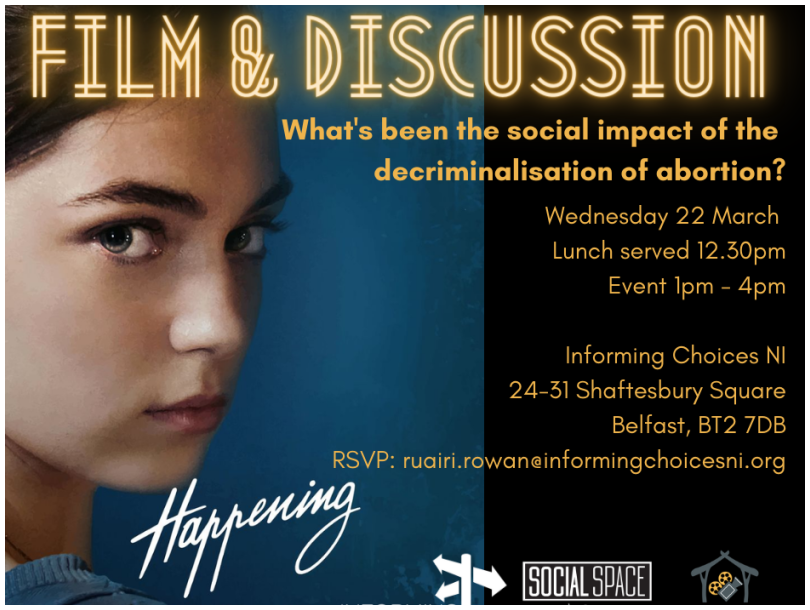 Informing Choices NI are delighted to be screening 𝗛𝗮𝗽𝗽𝗲𝗻𝗶𝗻𝗴 a French drama, based on a true story which won the Golden Lion at the 2021 Venice Film Festival. In partnership with the Flicks Hut and Our Social Space join us for an afternoon event that includes lunch and a pre-screening discussion on the social impact of the decriminalisation of abortion in Northern Ireland.
DISCUSSION
For over 50 years, the social understanding in Northern Ireland has been that women have needed to travel in order to access abortion. Following the decriminalisation of abortion, this is changing. Big Sexy Talk host Ruairi Rowan will join fellow ICNI staff members to reflect upon these changes and discuss how abortion is perceived by women and society in 2023. There will also be opportunities to ask questions.
 CHAIR          Ruairi Rowan, Director of Advocacy and Policy
SPEAKERS   Roisin Flanagan, Speakeasy Project Officer / Helpline Operator
                       Carrie Montgomery, Counselling Services Coordinator
FILM
In 1963, student Anne has a bright future ahead of her, but her dreams of finishing her studies are shattered when she becomes pregnant. As her final exams approach, she decides to take matters into her own hands. A true story about life during times when abortion was not just illegal but also widely seen as a terrible immoral choice, and how those stigmas are sadly often internalized, causing pain and trauma long afterward. 
Language: French 
Admission FREE by pre-booked email to [email protected] 
(Event sponsored by Informing Choices NI Speakeasy Project)
𝑻𝒉𝒆 𝑭𝒍𝒊𝒄𝒌𝒔 𝑯𝒖𝒕 𝒊𝒔 𝒂 𝒑𝒐𝒑-𝒖𝒑 𝒄𝒐𝒎𝒎𝒖𝒏𝒊𝒕𝒚 𝒄𝒊𝒏𝒆𝒎𝒂 𝒃𝒚 𝑶𝒖𝒓 𝑺𝒐𝒄𝒊𝒂𝒍 𝑺𝒑𝒂𝒄𝒆
Location
3rd Floor, Ascot House, 24-31 Shaftesbury Square
Belfast
BT2 7DB
United Kingdom
View Map
Contact Details