Art & Culture
Event
Denis Hempson, the Harper and his Legacy presented by M Doherty & F Pegrum
Excalibur Press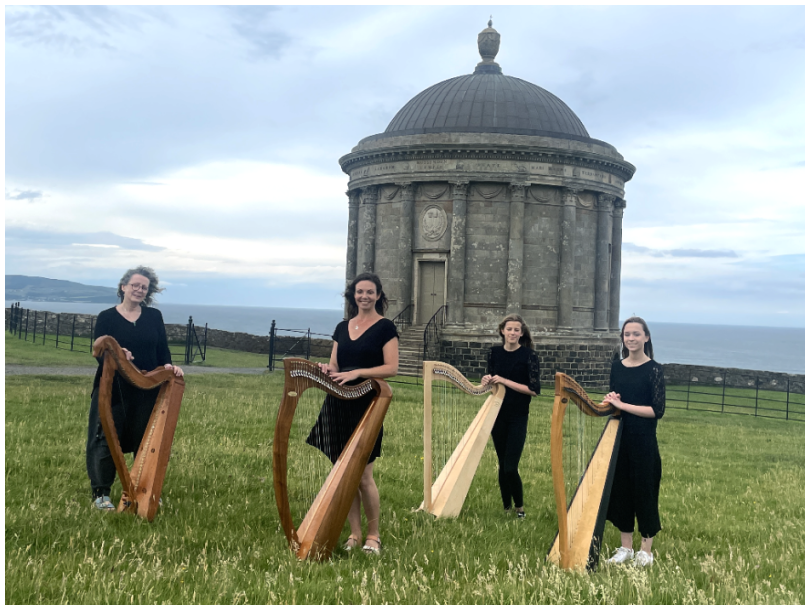 Denis Hempson, the Harper and his Legacy presented by M Doherty & F Pegrum
This is a joint project with the National Trust to commemorate the 1792 Harp Assembly. A number of Charitable groups have come together to put on this event. Cruit Éireann / Harp Ireland and Reclaim the Enlightenment have taken the lead to organise this project.
The Mussenden Temple event will include - 
Denis Hempson: The life, music and times with Mark Doherty and Fiona Pegrum QG. 
Aoibheann Devlin will be taking us through Early Harp, Downhill and rendition. 
Harp music from the Causeway Harp Ensemble led by Katy Bustard.
The Scoil Ruaidhrí Dall led by Nodlaig Brolly.
Refreshments and buffet supper will be provided. 
This will be the launch and main event for the Harp Festival celebrating the 230th Belfast Harp Assembly. This event will celebrate the life of Denis Hempson who was lauded as one of the last of the great Irish traditional harpers. The Mussenden Temple is a splendid location which Denis would have known as he played many times in the Downhill Demesne. We will celebrate the life and work of this fascinating local Magilligan man.
Causeway Harp Ensemble-
Causeway Harp School is based in Portballintrae on the North Coast of Ireland and is led by Katy Bustard. Educated at Queen's University (BA, MSc), University of Exeter (PGCE) and London College of Music (dipLCM, ALCM), Katy has worked as a teacher for almost 20 years in classroom, one-to-one and group settings. It is her vision to connect her community on the north coast with their unique heritage of the Irish harp and to make learning this beautiful instrument more accessible.
Katy Bustard is delighted to be accompanying some of her young pupils at this event, as they perform music from the Bunting Collection, with a special focus on some of the favourite airs played by Denis Hempsey.
Ruaidhrí Dall Harp Ensemble- 
The harpers are members of Scoil Ruaidhrí Dall based in Dungiven Castle in the Roe Valley. Nodlaig Ní Bhrollaigh, the director of the harp school is a classically and traditionally trained harper and composer. Her work, 'Strings of Heaven' for harp ensemble and voice was commissioned by Causeway Coast & Glens Council to celebrate 'Colmcille 1500'.
As a soloist, Nodlaig has performed at the International harp festival in Dinan and with San Diego Symphony Orchestra. Nodlaig had a key role in the Louic Jordan film, 'Banríon an Cheoil' about the Downhill Harp which was broadcast on BBC NI and TG4. 
The Ruaidhrí Dall ensemble has performed for the President of Ireland, Discover Ireland and have featured at Fleadhanna and on Radio Ulster and RTÉ radio.
Harps Alive│An Chruit Bheo│Harps Leevin is a major collaborative festival to mark the 230th anniversary of the assembly of harpers in Belfast in 1792 and to celebrate the work of the renowned organist and collector, Edward Bunting, who played such a major part in the preservation of their music. The historic significance of the 1792 Belfast Harpers' Assembly is not to be underestimated. It was led by the upper echelon of cultural leadership in Belfast, who united to stimulate public interest in what they deemed to be a tradition at risk. Its purpose was to revive an interest in harp music and to collect the music of the harpers and note their style of playing for future generations.
Buy Tickets here:
https://www.eventbrite.com/e/denis-hempson-the-harper-and-his-legacy-presented-by-m-doherty-f-pegrum-tickets-348353654157?aff=ListingsWebsites
Location
Mussenden Temple and Downhill Demesne
Castlerock
BT51 4RP
United Kingdom
View Map