Fundraiser
Event
Deep RiverRock Belfast City Marathon & Relay

Bowel Cancer UK
Cost:
Full marathon £25, Relay team £80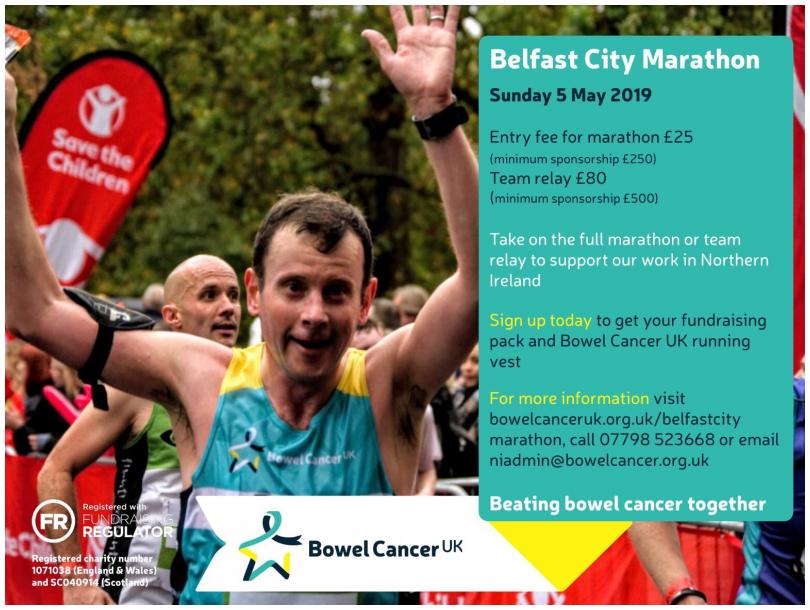 Join us for the biggest marathon and relay event in Northern Ireland. Now is the time to run for us with a brand new, flatter route, new start location at Stormont Estate and the event will take place on a Sunday for the first time ever.
Event Details
Date: Sunday 5 May 2019

Time: 9.00am

Location: Belfast, Northern Ireland

Distance: Full marathon (26.2 miles) or Relay (various distances available)

Registration fee: Full Marathon £25, Relay team £80 

Minimum sponsorship target: Full marathon £250, Relay Team £500
Join our Team Bowel Cancer UK and raise vital funds for Northern Ireland
I have my own place?
If you have secured your own place then we would love to welcome you to our team. There is no set fundraising target; we just ask that you raise as much as you can to help stop bowel cancer. To join our team complete this form.
How we'll support you
Our NI team will support you all the way, from your initial welcome pack through to cheering you along the course. We will send you or your team a running vest along with marathon training and nutrition advice and some fundraising tips to make sure you have the best experience.
Location
Stormont Estate
Upper Newtownards Road
Belfast
BT4 3SH
United Kingdom
View Map
Contact Details
If you have any questions about training or fundraising, or the event in general please do get in touch by sending us an email [email protected] or call 077985 23668.