Launch
Event
Childcare For All Campaign Family Friendly Launch

Women's Resource & Development Agency (WRDA)
This is a free event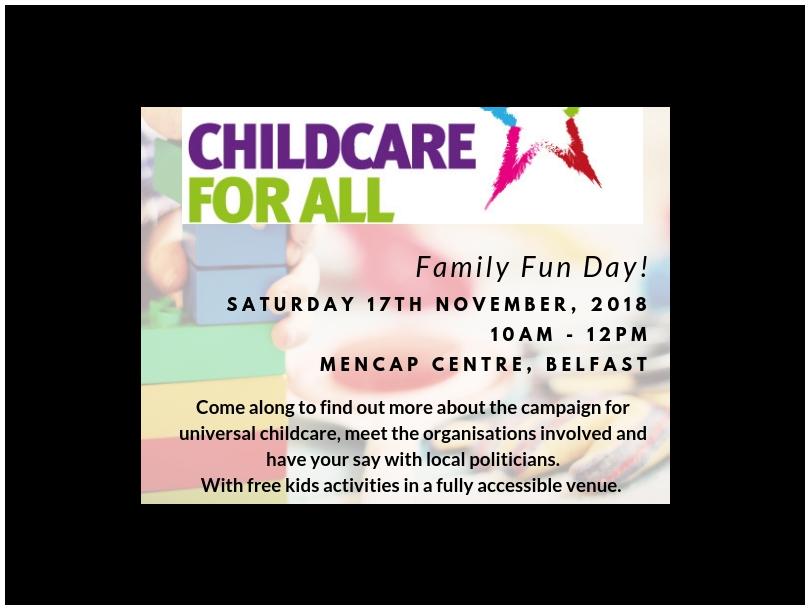 An opportunity for all parents and children who support the call for universal childcare to find out more about the Childcare For All campaign. Speak to elected representatives, meet the organisations behind the campaign, and record your views on the childcare issues you face as a family. Free activities for children in a fully accessible venue.
Childcare For All is a coalition of community and voluntary sector organisations who campaign for universal child-centred childcare that meets the needs of children, families, childcare workers and providers, and benefits society. We publicly launch the campaign in Stormont in May with full support from all the main political parties. 
Since then we've been supporting parents to tell their childcare stories through social media as well as working with MLAs and policy makers to keep childcare on the agenda.
We are having this family-friendly launch because the campaign belongs to families. The families who are under stress because they can't keep up with childcare costs, those who've had their benefits cut or face more pressure to increase their working hours but without suitable childcare available, families in rural areas who can't access childcare nearby, families where a child's disability makes it almost impossible to get suitable childcare... These are the stories we hear every day and these families are the heart of this campaign. 
We're inviting you to come along and have your say, find out more and see if you'd like to get involved. We also welcome representatives from organisations who'd like to come and pledge their support for Childcare For All. 
Register now on Eventbrite as places are limited: https://www.eventbrite.co.uk/e/childcare-for-all-campaign-family-fun-day-tickets-51145671079 
Thanks to Mencap, one of our campaign supporters, for hosting this event.
Sector:
Carers
Children and families
Disability
Lobbying/policy
Women
Location
5 School Road
Newtownbreda
Belfast
BT8 6BT
United Kingdom
View Map