Informal Meetup
Event
Ballysillan ROC Conversation

Redeeming Our Communities Northern Ireland
This is a free event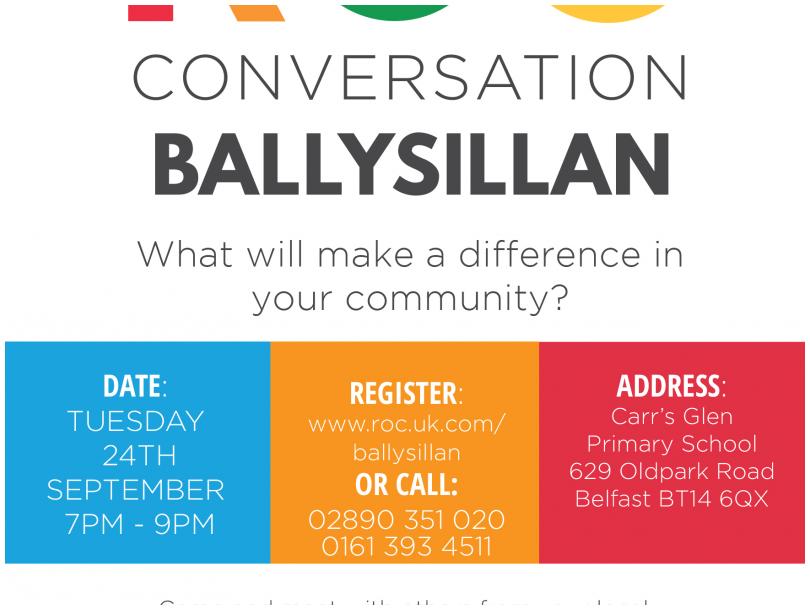 Join us on Tuesday 24th September for the Ballysillan ROC Conversation - book your FREE place online at
www.roc.uk.com/ballysillan
.
Come and meet with others from your local community including police, fire and ambulance services, the local council, community and faith based groups to discuss ways of working together for the good of your community.
We bring together those who live, work and serve in the local community to celebrate the good work that is already taking place. Between us, we then determine where any gaps in provision may be and, critically, see what each person present can offer to bridge the gap. The conversation always leads to action and positive change in the local community.
If you live, work or volunteer in the Greater Ballysillan area of North Belfast, you are welcome to join the Conversation.
Sector:
Advice services
Children and families
Community development
Community relations
Education/training
Health and wellbeing
Housing and homelessness
Men
Older people
Volunteer development
Women
Young people
Location
Carr's Glen Primary School
629 Oldpark Road
Belfast
BT14 6QX
United Kingdom
View Map
Contact Details
For more information, contact the ROC team at [email protected] or call our office on 02890 351020
More Information
For more information and to RSVP your FREE place at www.roc.uk.com/ballysillan