Fundraiser
Event
Back to the 80's party to support Shelter NI

Shelter NI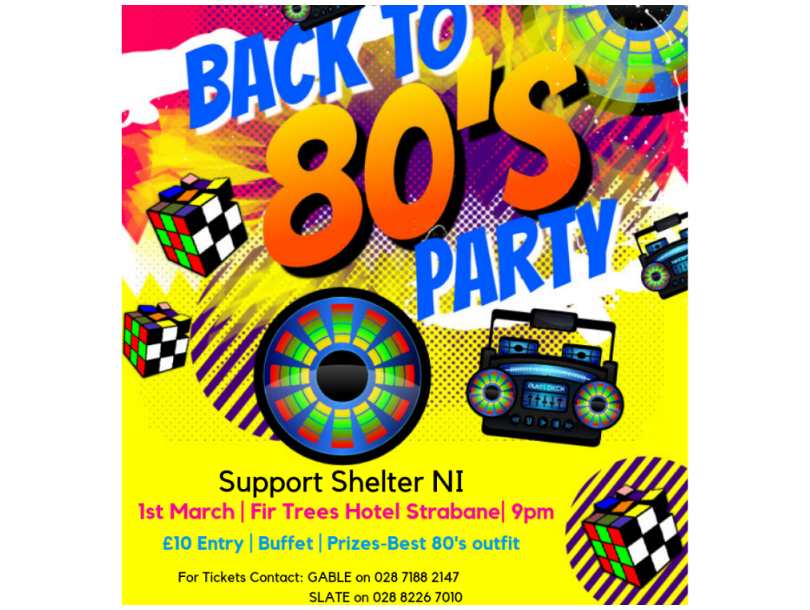 Shelter NI is very excited to announce our 1st ever themed party in Strabane on Friday 1st March, at The Fir Trees Hotel at 9pm.
This will be a night to remember, with DJs, Karaoke, photo booth with props to get your best selfies, finger food buffet, prizes for the best 80's female and male costumes and a raffle with fabulous prizes.
It's going to be a real Thriller, totally Neon, but most of all a chance to Express Yourself on the dance floor!!!!
So get your skates (and legwarmers) on and buy your tickets today. Call GABLE on 028 7188 2147 or SLATE on 028 8226 7010.
All proceeds raised from this event will help Shelter NI to continue to provide housing services and advice through our locally based GABLE and SLATE projects, which helped over 500 people last year alone.
Every day across Northern Ireland 50 families and individuals present as homeless. It doesn't have to be this way.
Location
Dublin Road
Strabane
BT82 9EA
United Kingdom
View Map
Contact Details
Ânia Gonçalves or Ellie Evans 
More Information
For tickets please contact
GABLE on 028 7188 2147
SLATE on 028 8226 7010