Conference
Event
Ambitious Partnerships Conference: Linking Community and Business

Business in the Community
Cost:
Delegate: £70 per person; Exhibitor: £130 per exhibitor, including 1 delegate place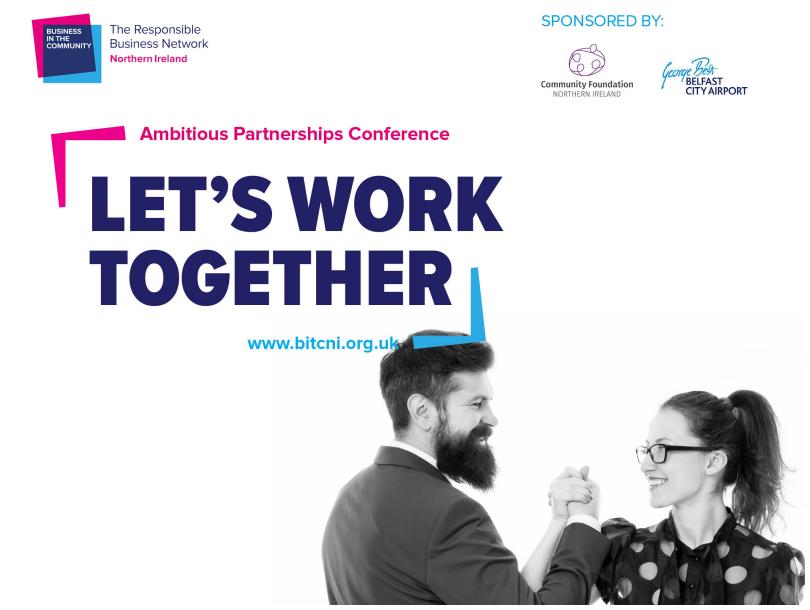 Back by popular demand, Jonathan Andrews, will take you on the journey from remarkable partnerships between private sector and the charity/community sector to Ambitious Partnerships.
We know that partnerships between business and charities have the potential to make a huge impact. However sometimes these partnerships break down or deliver disappointing results, due to challenges including culture and communication.
At this conference we will explore how we can improve the way that businesses and charities partners together, so that these partnerships deliver more ambitious results for society and both partners
Benefits to Charity Delegates
Understand what businesses want from a charity partnership and want they don't want

Increase your chances of securing strategic business partnerships that will increase your unrestricted funding and leverage pro bono business skills and expertise

Learn how to identify and engage your ideal business partner

Opportunity to meet and hear from key business representatives and potential future partners
Benefits to Business Delegates
Learn how charities can help your business tackle key social issues and align with UN Sustainable Development Goals (SDGs)

Understand how to secure  buy-in from employees, senior managers and key stakeholders to your charity partnership

Discover how other businesses are creating and benefitting from ambitious charity partnerships

Opportunity to meet and hear from local charity representatives and potential future charity partners
Our keynote speaker is Jonathan Andrews, the corporate partnership specialist with 18 years' experience and the guru on how to make sure your charity/business partnership is ambitious and set up for success.
Delegates will also meet representatives from key businesses in Northern Ireland who are making real strides in this area of charity partnerships and who are keen to share their experiences – the good, the bad and the ugly!
Please find below an outline of the day:
Programme
9:00 am    Tea/Coffee on Arrival – Exhibition Stands and Networking
9:30 am   Jonathan Andrews, Remarkable Partnerships
Why should we be more ambitious?
What are the obstacles and challenges?
what can we do differently to overcome them?
Agree next steps
11:15 am   Break and Expo
11:30 am   Breakout session
Hear from business representatives on their approach, featuring the following:
A&L Goodbody

Allen & Overy

Arthur Cox

Asda

Belfast Harbour

Citi

Lidl Northern Ireland

Phoenix Natural Gas

PwC

The Henderson Group
1:00 pm   Lunch
2:00 pm   Tour of Camphill (optional)
2:30 pm   Close
Delegate Cost
£70 per person, including refreshments and lunch
Exhibitor Cost
Please note a limited number of exhibition stands are available. £130 per exhibitor, including 1 delegate place, refreshment and lunchr
Booking
To book your place, please please click here; or contact Kyle Lawlor at [email protected] or (028) 9046 0606.
Sector:
Community development
Community relations
Location
Camphill Community Glencraig
4 Seahill Road
Holywood
BT18 0DB
United Kingdom
View Map
Contact Details
To book your place, please click here; or contact Kyle Lawlor
More Information
For more information, visit our website