Fundraiser
Event
Action for Children Boycott your Bed

Action for Children, Northern Ireland
This is a free event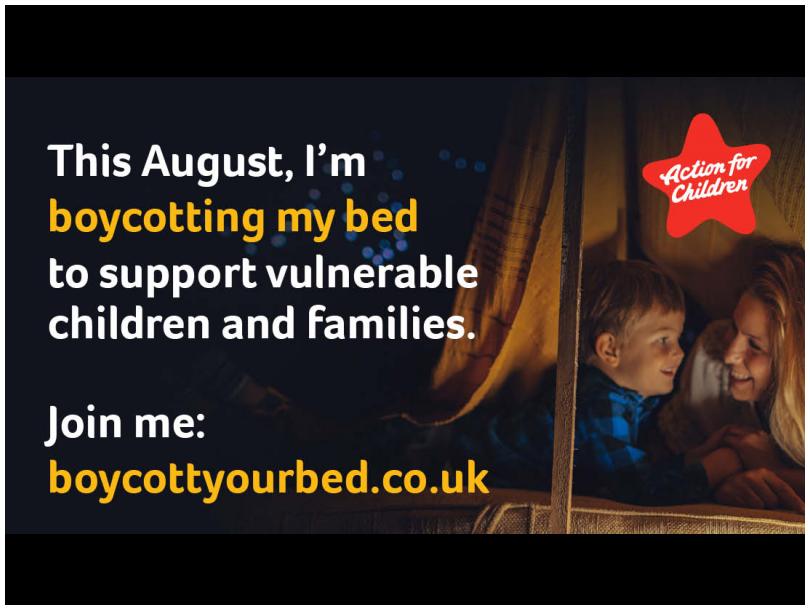 Boycott your Bed is a replacement for this year's Byte Night as due to Coronavirus we are unable to hold our yearly sleep out in Belfast. As you know Action for Children's voluntary income, like many charities, has been hit hard by the pandemic and while we have come up with new products to try and plug that gap we need your help to spread the word and get Northern Ireland signed up! What's so exciting about this product is that anyone can sign up - it's one for all the family!
On Friday 21st August Action for Children are calling on the public to join the Boycott your Bed challenge to raise funds for Action for Children. 
You can choose to take part your own way – whether that's roughing it in the garden, pitching a tent under your table, or bunking down in the bathroom. There'll be virtual entertainment and fundraising fun on the night, too, bringing homes together across the UK.
Join forces with family, friends or colleagues, or go solo and raise money to help vulnerable children and families across the UK who are in desperate need.
Even before coronavirus hit the UK, more than 4.2 million children were locked in poverty. Now, vulnerable children and their families have reached breaking point.
Action for Children help by running 476 services across the UK, helping more than 387,000 children, young people and families every year. They work tirelessly to make sure every child has a safe and happy childhood.
Visit www.boycottyourbed.co.uk to sign up.  
Sector:
Carers
Children and families
Young people
Location
10 Heron Road
Belfast
BT3 9LE
United Kingdom
View Map
Contact Details
Cheryl Brown
NI Area Fundraising Manager
07736474543 | [email protected]
Loughshore House, 10 Heron Road, Belfast, BT3 9LE