Roe Valley Arts and Cultural Centre/ Ionad Ealaíon agus Cultúir Ghleann na Ró
Roe Valley Arts and Cultural Centre/ Ionad Ealaíon agus Cultúir Ghleann na Ró
24 Main Street
Limavady
BT49 0FJ
United Kingdom
Contact Details
Opening Hours
Mon- Wed 9:30am-5pm
Thurs - Fri 9:30am- 5pm
Sat: 9:30am-5pm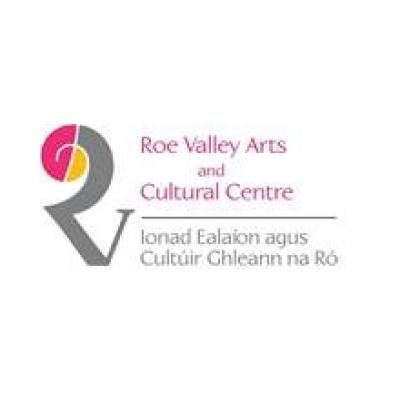 A beautiful arts and cultural facility located at the heart of the Roe Valley on Limavady's main street. Exceptional and adaptable spaces facilitating arts, heritage and community work.
Your facilities
Comprising of the Danny Boy Auditorium with 238 seating capacity, the O'Hampsey Dance Studio, Ritter, Keady and Broighter Art/Heritage Galleries, Ross-McCurry and Keenaught Boardrooms, community workshop rooms, dedicated museum store and our external Drumceatt Square, we accommodate a wide range of community activities and external corporate bookings as well as our own arts and heritage events programme. Contact our Arts and Facilities Officer Edel Murphy, to find out how we can develop your ideas with you.
Limavady Tourist Information is also located in our foyer and our gift shop retails top giftware brands as well as local crafts, including knitwear, crystal, sculptures, jewellery, books and ceramics.
We have a family zone in our ground floor area with comfortable seating, a community book swap, children's reading material, creative activities and toys. You are welcome to use our spaces to sit, relax, read, enjoy our small free library and free Wi-Fi.  Housed within our Drumceatt Square, Cafe Piazza and the Row by Roe craft shop are just next door.
How to hire your venue
If you are organising an event or conference or just looking for a meeting venue, then we are the perfect choice! Offering state of the art facilities for hire at very competitive community and commercial rates, we also guarantee a welcoming and friendly hospitality service.
Our bookable spaces include the multi-purpose Danny Boy Auditorium and an additional five meeting rooms as well as multiple galleries and our beautiful Drumceatt Square, allowing you the flexibility of corporate meetings and conferences with a dash of flair and events potential! Get more detailed information on our facilities.
Our hire charges can include Duty Officer and Front of House support, publicity and technical support. We are also pleased to say that all our tea and coffee is fairtrade and we offer free Wi-Fi access to our clients.
No content yet
This organisation doesn't have any publicly available jobs, services, news or events.
More Information
Type of Organisation
Public Sector