Board Membership
Trustees of Belfast Pride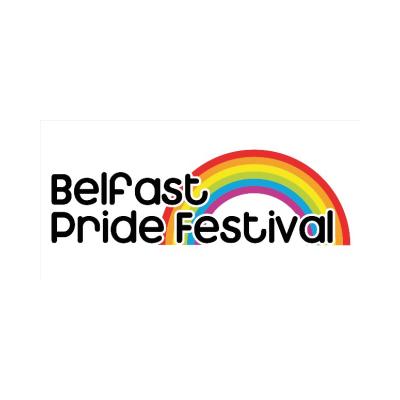 Belfast Pride is currently seeking to recruit a number of dynamic, enthusiastic and committed Trustees to join our Board of Trustees.
Who we are
Belfast Pride was founded in June 1991 and is an inclusive voluntary organisation that seeks to promote equality, visibility and inclusion for the LGBT+ community in Belfast. We celebrate the arts, culture, diversity and history of the LGBT+ community by delivering a range of events open to everyone that encourage interaction, collaboration and mutual understanding.
Belfast Pride Festival represents and promotes the LGBT+ community in Belfast by delivering a ten-day festival programme of arts, debate, family and events for all culminating on Pride Day with the annual Pride Parade through Belfast City Centre, Party in the Square and Pride Village. The festival runs over 10 days, with over 150 events over 60,000 people take part on Pride Day.
The Belfast Pride Parade is the biggest cross-community parade in the city, the main event in the LGBT+ calendar. It is a protest and a celebration, a call for equality, a stand for solidarity and a celebration of the lives of the LGBT+ community in Belfast and is about the positive messages and expressing support for the LGBT+ community. 
What we want to do
Belfast Pride is seeking to recruit Board members who are committed to our mission. Our aims are:
To improve the lives of Lesbian, Gay, Bisexual, Transgender, Queer people and including all LGBT+ sexual orientations and gender identities in the city of by promoting awareness of the arts, cultural heritage, history, lives and experiences of Lesbian, Gay, Bisexual, Transgender and Queer people in Belfast, and by promoting awareness and support for LGBT+ people to all citizens of Belfast to benefit LGBT+ people and enhance their place as equal citizens in city.
To increase public awareness and the education of the general public in relation to lives, issues, history, and culture affecting LGBT+ people in Belfast; 
To increase support for equality and diversity in Belfast and contribute to reducing discrimination against LGBT+ people in Belfast.
To organise and deliver an annual LGBT+ festival, and supporting events throughout the area of benefit including music, visual art, comedy, theatre, film and literature events and other associated activities.
To promote and assist in the co-operation and networking between voluntary and community organisations and individuals engaged in programmes of public education designed to increase public understanding and awareness of LGBT+ people.
To advance any other exclusively charitable purpose as the Trustees, may from time to time, decide in accordance with Charity law. The Charity shall endeavour to operate in an open, accountable and inclusive way in all its activities.
To empower and support other local Pride organisations in their efforts to plan and promote pride celebrations and to take part in national Pride organisations in the UK and Ireland as well as European and global Pride networks.
We want to ensure that the Board is representative and we are particularly interested in applications from:
People from a BAME background
Younger (18-25) people
Trans and non-binary people
Applications are welcomed from people of all sexual orientations and genders. We are particularly interested in people who have skills in:
Event Management
Legal Issues
Commercial Work 
Social Enterprises 
Commitment required: One 2 hour meeting per month and a possible further commitment of 4 hours per month depending on representation/participation on working groups. Trustees can claim out-of-pocket expenses, including travel expenses.
To receive further information or arrange an informal meeting to discuss, please contact [email protected] 
For more information on Belfast Pride please visit https://belfastpride.com/ 
Closing Date: Friday 3rd December 2021at 5.00pm
Please note interviews are scheduled to held in the daytimes and evenings of Monday 6th, Tuesday 7th and Wednesday 8th of December 2021. Further dates may be added depending on the number of people shortlisted. Interviews will be held over zoom.