Job | Part Time
Case Officer - Brain Injury
22462 pro rata per annum
21.00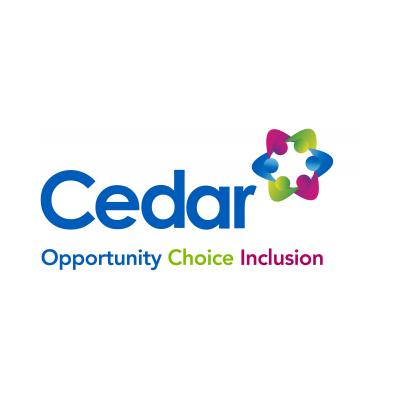 To hold a caseload of Brain Injury participants, acting as Case Officer and managing their action plan activities.
Brain Injury Case Officer                                                          REF: 19-097-CO-IW-WEB
The Cedar foundation deliver a range of services centred around the individual needs of each person and enabling people with disabilities to get the most out of life and to be fully included in their communities.
We support adults with disabilities who are keen to build employability skills and experience to be work ready, then moving into a paid job, college course or volunteering on leaving. Specialist physical disability, ASD and brain injury support is available and tailored to each individual and their needs. Inclusion Works is person-centred, encouraging and supporting individuals to design their own programmes around their needs and aspirations, building confidence and independence. Following initial assessments, participants will build an action plan, drawn from a menu of choices to address their personal barriers and agree solutions to meet their employability and inclusion goals.
 
Purpose of the Job: 
To hold a caseload of Brain Injury participants, acting as Case Officer and managing their action plan activities.

To deliver in-house specialist rehabilitation sessions and employability skills training. 

To source external training/employment/social inclusion activities that lead to sustainable outcomes.

To work in partnership with a range of referral sources including the Community Brain Injury Team throughout the Southern HSCT areas.
Hours:                          21 hours per week.
 Contract:                      Permanent
Locations:                    Southern HSCT area, office base: The Cedar Foundation, An Stóras, Ballybot House, 28 Cornmarket, Newry BT35 8BG
Salary:                         3 point incremental scale starting at £22,462 per annum (pro rata)
Essential Criteria:                   
RQF Level 6 qualification (e.g. Bachelor's Degree)
AND
Minimum of 1 year's paid experience in the direct provision of education, training or support with a Brain Injury/Disability client group
OR
Minimum RQF level 4 qualification
AND
Minimum of 3 years' paid experience as above

Proficiency in IT skills, specifically Microsoft Word, Excel, Outlook

Hold a full current driving licence valid for use in the UK and Ireland and have access to a car on appointment*
This criterion will be waived in the case of a suitable applicant who has a disability which prohibits them from driving but who is able to organise suitable alternative arrangements in order to meet the requirements of the post in full.
Apply online at
Closing Date: Tuesday 27th August 2019 at 16:00
_______________________________________________
THE CEDAR FOUNDATION IS AN EQUAL OPPORTUNITIES EMPLOYER
Closing Date
Tuesday / 27 August 2019 4:00pm
4:00pm
Contact Details
An Stóras, Ballybot House
28 Cornmarket
Newry
BT35 8BG
United Kingdom
Files
Brain Injury Case Officer JD.pdf