Outdoor Activity
Event
Giant Coastal Challenge 2019

Cancer Fund for Children
Cost:
Registration £20 | Minimum Sponsorship £80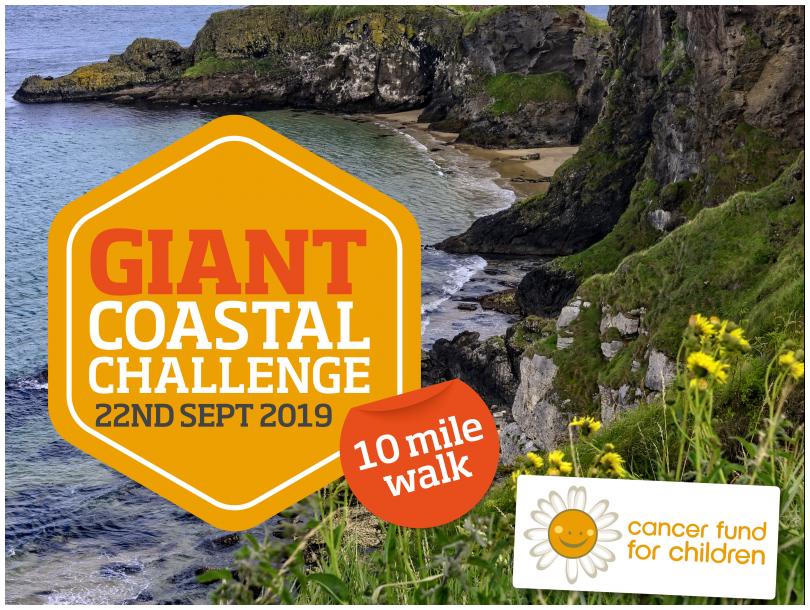 Join us for this stunning 10 mile walk along the North Coast from Portbradden passed the Giant's Causeway to Portballintrae Boat Club and make a giant difference to children with cancer.
Take on a Giant Challenge for Kids with Cancer
Join Cancer Fund for Children on Sunday 22nd September for our annual Giant Coastal Challenge! Discover the Causeway coastline and all its wild and wonderful scenery from a completely new perspective - by walking it!
We promise world class scenery on this 10 mile Atlantic adventure along this iconic stretch of coastline… but we can't promise good weather! Rain or shine though, we will be out and putting our best foot forward and we can promise you a well-deserved sense of achievement when you finish.
Not only will you be challenging yourself, but you will be making a GIANT difference in supporting local children, young people and families living with cancer. Sign up today to become a GIANT for Cancer Fund for Children and help us be there for these families when they need it most.
The Route
Morning sign in takes place at Portballintrae Boat Club, before participants are bussed to the start in Portbradden by Brogans Luxury Travel. Starting from Portbradden, a tiny hamlet with stunning views across the Atlantic and Whitepark Bay. Our hike takes us through fields, over styles and through a small cave, enjoying the breath-taking scenery and saying hi to the occasional sheep!
We continue on to the ruins of Dunseverick Castle, thought to have been built in the 5th century and a former seat of the King of Ireland. We follow the Ulster Way towards Giants Causeway, taking us along cliff paths which will offer us a view encompassing the full scale of its beauty and geological uniqueness.
From Giant's Causeway to Portballintrae takes in incredible scenery of the rugged sand dunes and landscape sculpted by the ocean. Our finishing point will be in Portballintrae Boat Club, where you will have the chance to warm up and refuel knowing you have conquered the Giant Coastal Challenge and helped support local children affected by cancer.  
We continue on to the ruins of Dunseverick Castle, thought to have been built in the 5th century and a former seat of the King of Ireland. Not far from here is Dunseverick Harbour which is our half way point and where we will stop for some lunch and to use the facilities.
Toilet facilities and opportunity for rest breaks will be available in Portbradden, Dunseverick Harbour and Giant's Causeway. The walk will be guided and marshalled by Life Adventure Co.
Taking Part
The walk begins at the Portbradden and ends at Portballintrae Boat Club. The walk is approximately 10 miles in length and is designated a challenging walk. Hiking boots are necessary!
We ask that each participant pays a registration fee of £20pp and then raises a target sponsorship amount of £80 each.
Participants must be 14 years + and anyone under the age of 18 must be accompanied by an adult at all times. Dogs are not permitted and the route is not suitable for buggies / wheelchairs.
All participants MUST park their vehicles and register for the event at Portballintrae Boat Club. Coaches will then take all event participants to start the walk at Portbradden.
Sign Up
https://cancerfundforchildren.com/event/giant-coastal-challenge-2019/
For more information contact [email protected] or call 028 9080 5599.
Kindly supported by Brogans Prestige Travel and Portballintrae Boat Club
brogansprestigetravel.com
Location
Giant's Causeway
Bushmills
BT57 8SU
United Kingdom
View Map