Outdoor Activity
Event
Free Community Tree Planting Events in Oughtagh Wood, Faughan Valley

Woodland Trust Northern Ireland
This is a free event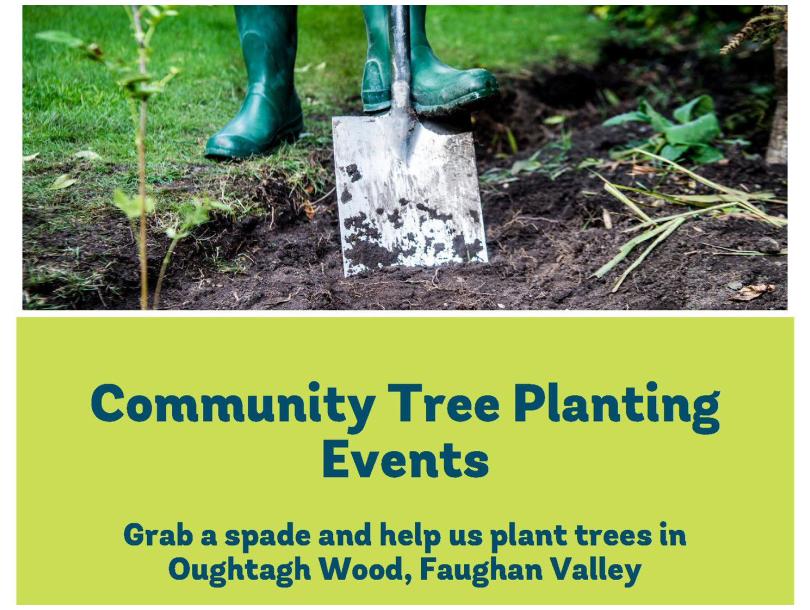 Grab a spade and come along to plant trees in Oughtagh Wood, Faughan Valley.
Place: Oughtagh Wood, Killaloo, BT47 3TR
Dates:
Saturday Nov 26th 2022
Wednesday Dec 7th 2022
Saturday Dec 17th 2022
Saturday Jan 7th 2023
Thursday Jan 12th 2023
Saturday Jan 21st 2023
Saturday Feb 11th 2023
Thursday Feb 16th 2023
Time: Two time slots available – 10am-12pm & 1pm-3pm
Duration: 2 hours
Distance: 1km
Price: Free
Booking: Essential - Tree Planting at Oughtagh Wood, Faughan Valley (cloudvenue.co.uk)
Parking: There is no parking available at the site currently. Parking will be available at Brackfield Bawn, beside Cumber Presbyterian Church (269 Glenshane Rd, BT47 3SW) and a shuttle bus will transport everyone to the site at regular intervals
Dogs: Allowed on a lead only
Access: Paths are unsurfaced and can become muddy or slippery during wet weather. Some steep areas and rough terrain in the planting area. Unsuitable for wheelchairs
Extra things to know: Please dress appropriately for the weather and activity, as it may be cold and/or rainy. Walking boots are advised, along with warm layers as the site is very exposed. To reach the planting site please allow 30-40 minutes to walk up the hill which includes some steep sections. Spades will be provided but feel free to bring your own if you prefer. This event is suitable for families. There are no toilets available on site.
Event may be postponed or cancelled in extreme weather.
Sector:
Community development
Environment and Built Heritage
Health and wellbeing
Men
Older people
Volunteer development
Women
Young people
Location
Oughtagh Road
Killaloo
BT47 3TR
United Kingdom
View Map
Contact Details