Fundraiser Outdoor Activity
Event
Abseil for Action Cancer!

Action Cancer
Cost:
£20 registration fee; minimum sponsorship: £120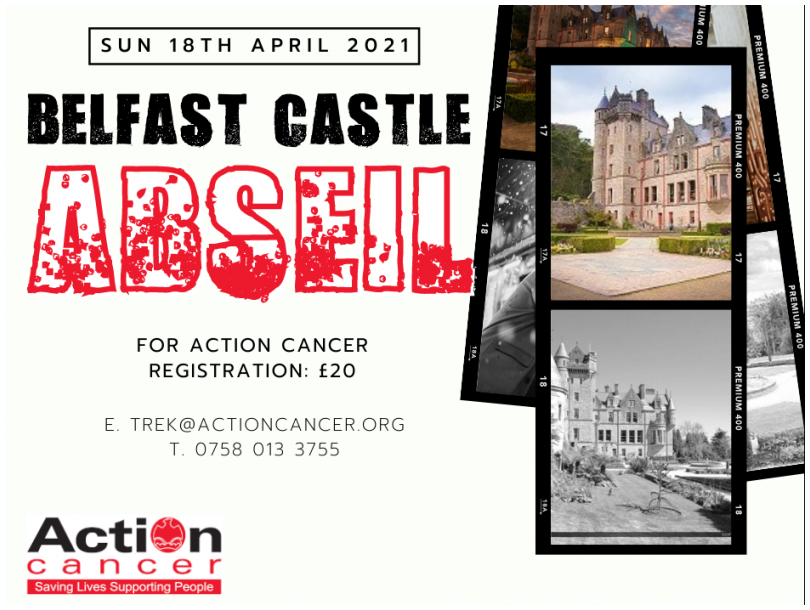 Put your courage to the test and Abseil from Belfast Castle, on Sunday 18th April 2021, for Action Cancer.
Set on the slopes of Cave Hill Country Park, the idyllic Belfast Castle stands in a prominent position 400 feet above sea level. This daring challenge will see you abseil 100 feet down the side of the castle's fairy-tale tower as the daylight fades and the city pops on its beautiful twinkly lights.
Enjoy stunning views of the city landscape as you make your way over the top and back to solid ground.
All funds raised by this event will go towards the delivery of Action Cancer's prevention, detection and support services and help those in Northern Ireland affected by cancer.
Essential info
Date: Sunday 18th April 2021
Location: Belfast Castle
Registration fee: £20 per person
Minimum sponsorship: £120 per person             
Other: Each person must complete a medical consent form and Covid-19 screening form prior to participation in this event.
For more information, or to book, please get in touch as follows: 
W. www.actioncancer.org/Get-Involved
T. 02758 013 3359. 
Location
Belfast Castle
Antrim Rd,
Belfast
BT15 5GR
United Kingdom
View Map
Contact Details
Please contact the Action Cancer Fundraising Team by emailing: [email protected] or calling 028 9080 3349. 
More Information